Majorities of Men, Seniors and Independents View Trump Unfavorably With Less Than 10 Days to Election Day: Poll
With less than 10 days to Election Day, majorities of men, Americans over 65, and independent voters view President Donald Trump unfavorably, new polling shows.
Trump has trailed Democratic presidential nominee Joe Biden, who served as vice president under former President Barack Obama, in every major national poll since early September. Now that there are just nine days until Election Day on November 3, polling by ABC News/Ipsos shows that the majority of Americans (57 percent) view Trump unfavorably. Just 35 percent view the president favorably.
The survey found that Trump has a deficit among several key demographics of voters that helped propel him to victory in 2016. Among men, 53 percent view the president unfavorably, while 53 percent of those over 65 years of age and 57 percent of independents also view the president negatively.
Meanwhile, only 43 percent of Americans view Biden unfavorably while 44 percent view him favorably. Although the Democratic nominee's favorability is relatively low, it's still 9 percentage points higher than that of Trump. Biden's unfavorability with men and independents is lower than Trump's as well, standing at 49 percent and 48 percent respectively.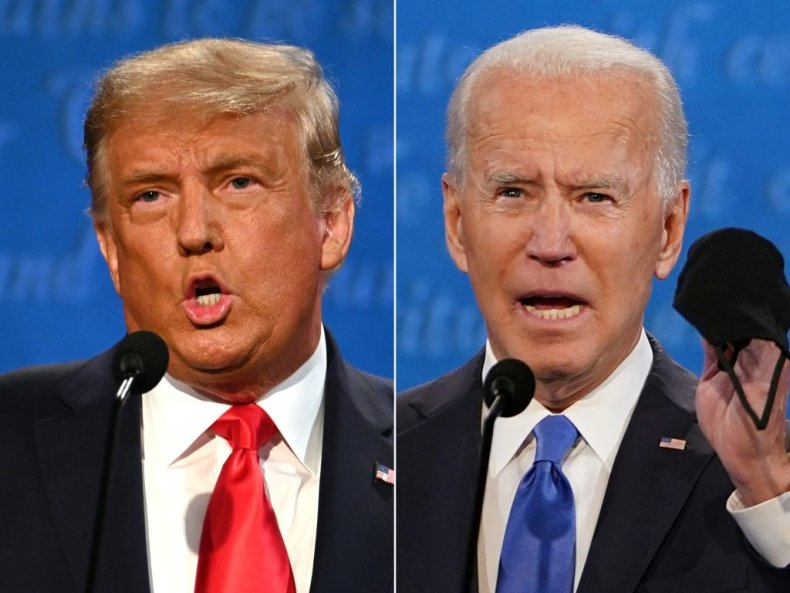 Notably, Trump's favorability among Republican voters stands significantly lower than Biden's favorability among Democratic voters. While 90 percent of Democrats have a positive view of the former vice president, just 74 percent of Republicans view Trump favorably.
The current RealClearPolitics average of national polls shows Biden with a lead of about 8 percentage points over Trump—with nearly 51 percent of likely voters backing the Democrat compared to less than 43 percent who support the incumbent Republican. The FiveThirtyEight polling average gives Biden a slightly stronger edge, with a lead of 9 percentage points—or about 52 percent as opposed to just 43 percent for Trump.
Although all recent polling suggests Biden will easily win the popular vote, all eyes are on key battleground and swing states. In 2016, former Democratic presidential candidate Hillary Clinton won nearly 3 million more individual votes than Trump, but the president pulled off a series of narrow wins in swing states, giving him a big win in the Electoral College.
Recent polls suggest Biden is well-positioned to win in several swing states—particularly Michigan, Pennsylvania and Wisconsin. These states went for Obama in 2008 and 2012 before flipping red for Trump in 2016. But the current RealClearPolitics averages show Biden leading by just over 5 percentage points in Pennsylvania, nearly 8 points in Michigan, and by more than 4 percentage points in Wisconsin. The Democrat is narrowly favored to win in Florida as well, another state that went blue in 2008 and 2012 before flipping for Trump in the last presidential election.