Majority of Americans Say COVID Is 'Here to Stay,' Time to Get on With Life: Poll
A majority of Americans think coronavirus is "here to stay," according to a new poll.
The Monmouth University survey, released Monday, found that 70 percent of U.S. adults agree with the statement "It's time we accept that COVID is here to stay and we just need to get on with our lives."
Most Americans don't think the health crisis will be solved anytime soon. Roughly one-third of those polled said it will take longer than the end of the year to control the outbreak and return to pre-pandemic life. Plus, 28 percent of Americans said they don't think the country will ever get the outbreak under control and be able to return to normal.
The findings come as the Omicron variant continues to plague the country. While case numbers are falling nationally after reaching record-setting peaks earlier this month, hospital systems remain overwhelmed and deaths are totaling roughly 2,500 per day.
As most Americans believe the virus is here to stay, some governors are suggesting shifting to an endemic response. New Jersey Governor Phil Murphy and Arkansas Governor Asa Hutchinson both made the case for changing the approach during appearances on Meet the Press on Sunday.
"I do believe that we need to move from a pandemic status and mode of operation to more endemic, where we're normalizing, taking it very seriously, preparing, but I think we need to move out of the panic mode," Hutchinson said. "I think we need to handle this to make sure that we continue with our normal lives."
Murphy added, "We're not going to manage this to zero. We have to learn how to live with this."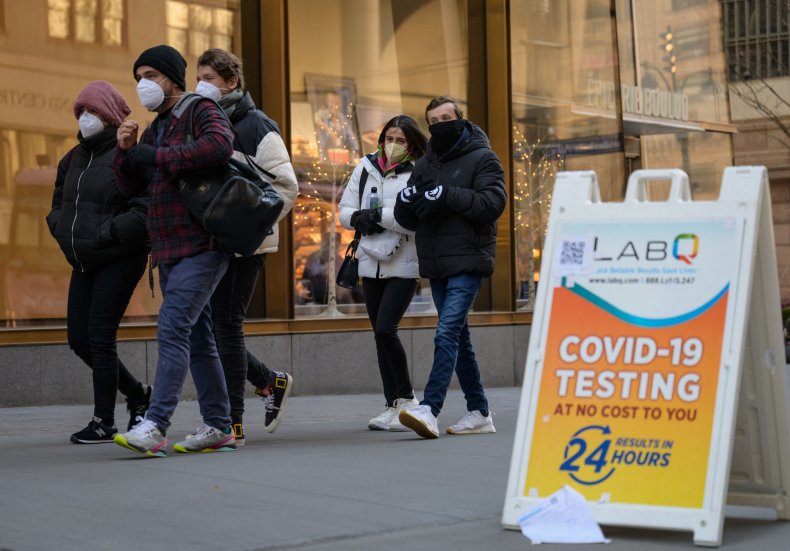 The Monmouth survey found a slim majority (52 percent) still supports mask requirements and social distancing guidelines where they live. But support for the requirements has slipped since September, when 63 percent of respondents supported such measures.
Support for vaccine mandates has also fallen. Forty-three percent of adults back requiring people to show proof of vaccination to go to work or a setting where they are around other people—a drop of 10 percentage points from September.
Recently, the Biden administration was forced to walk back its vaccine and testing mandate for large companies after the Supreme Court blocked the rule. The now defunct policy would have required businesses with 100 or more employees to ensure workers were fully vaccinated or submit to weekly testing.
"We still see public support for maintaining some degree of public safety around Covid," Patrick Murray, director of the independent Monmouth University Polling Institute, said in a statement. "However, there appears to be an acknowledgment that federal measures have not been effective, or at least have failed to be widely accepted."
Monmouth surveyed 794 U.S. adults by telephone between January 20 and 24. The poll has a margin of error of plus or minus 3.5 percentage points.