Majority of Americans Approve of Their State's Response To Coronavirus Pandemic, Poll Shows
With governors throughout the country taking the lead in responding to the coronavirus pandemic, a new poll shows that more Americans favor their state's response to that of the federal government.
The poll, published Friday by the London-based Opinium, shows an average of 61 percent of American adults approved of their state's handling of the pandemic, while only 47 percent of those polled approved of the federal government's response. The survey was conducted online between April 9 and 15, after most states had issued stay-at-home orders.
New Hampshire, Utah and Kentucky drew the highest approval rating from respondents, with 90 percent or more saying they thought the states had handled the pandemic well. The five states that have been hit hardest by the pandemic—New York, New Jersey, Massachusetts, California and Pennsylvania—received more tepid responses in the poll, with approval ranging from 73 percent in New York to 65 percent in Massachusetts.
According to data compiled Friday by Johns Hopkins University, those five states alone account for more than 480,000 cases, more than half of the total number confirmed nationwide.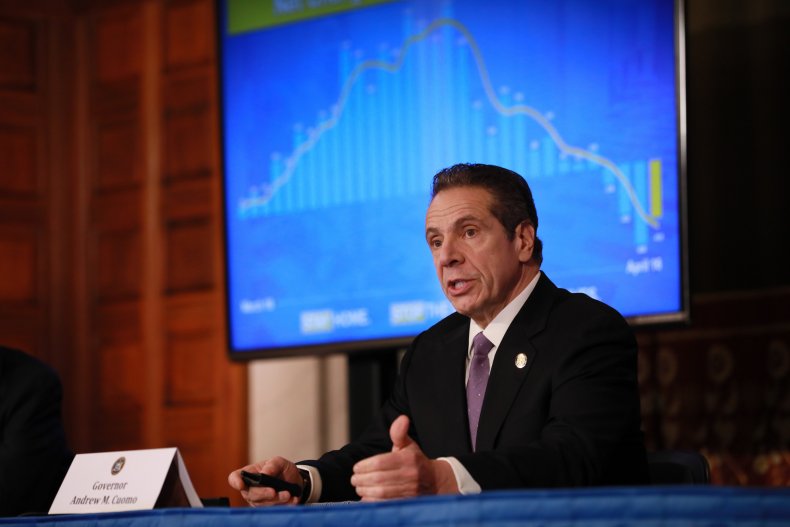 Of the 2,000 adults polled for the survey, fewer than 20 were from Nebraska or Wyoming, but more than 90 percent of those said they disapproved of their state government's response to the virus. According to data released Thursday evening, Wyoming had reported the least number of COVID-19 cases of all 50 states, with 332 cases and seven deaths confirmed. Wyoming has not issued a stay-at-home order, while Nebraska's is set to expire on April 30.
States that have seen contentious debate among residents regarding the severity of stay-at-home orders also showed moderate support for local responses to the pandemic. In Michigan, where Governor Gretchen Whitmer extended the state's stay-at-home order Friday despite moves by the state's legislative branch to curb her authority in the executive branch, 63 percent of respondents said during the survey window they supported her efforts. Though 72 percent of North Carolinian participants told pollsters earlier this month they supported local efforts to stem the virus' spread, protesters demonstrated in Raleigh on Tuesday to demand the reopening of businesses as the state's case numbers continued creeping upward.
Despite the protests, a poll published earlier this week by Yahoo! News and YouGov found the majority of Americans oppose demonstrations against coronavirus lockdowns. The Opinium poll supported those numbers, finding that 84 percent of participants were worried about the virus, and 86 percent believed social distancing measures are necessary.
In addition to highlighting disparities between trust in local and federal government sources—opinions supported by another poll published this week by Morning Consult—the Opinium poll pointed to the divide between its left- and right-leaning participants.
"Though national crises often have a unifying effect on the population, bringing people together against a common threat, this does not seem to be the case right now in the U.S.," Vice President of Research at Opinium's U.S. branch Giulia Prati said in a statement about the study.
While 72 percent of registered Republicans told pollsters they supported the federal government's efforts during the pandemic, only 33 percent of registered Democrats said they shared that view. However, Republicans and Democrats were more united on the poll's question of support for governmental responses to the pandemic at the state level, with 62 percent of registered Democrats and 72 percent of registered Republicans expressing their approval in the poll.