71 Percent of Americans Believe War With Iran is 'Likely' Within Next Few Years: Poll
Americans believe it is likely that the United States will go to war with Iran within the next few years, according to a poll conducted before the Islamic Republic fired missiles on Iraqi military bases housing U.S. and coalition forces.
The poll by Reuters and Ipsos Mori surveying American adults in the three days following the U.S. assassination of Iranian General Qassem Soleimani found that 71 percent believed it was very or somewhat likely that the U.S. and Iran would be at war within a few years. By comparison, only 51 percent of Americans said had the same view in May 2019, with a third saying the scenario was not likely.
Responding to the latest poll on the issue, just 17 percent said war between the U.S. and Iran was unlikely in their view, with 5 percent describing the possibility as "not at all likely."
Although Democrats were more likely to tell pollsters that war with Iran was "very likely" in the next few years, there was a degree of cross-party consensus on the issue. Exactly seven in ten Republicans said conflict was likely, and 77 percent of Democrats shared that view.
Newsweek subscription offers >
When asked to rank how much of a threat they viewed Iran to be on a scale of 1 to 5, with 1 being "no threat" and 5 being "imminent threat," four in ten ranked the country as an "imminent threat" to the United States, while only 4 percent said it was "no threat."
These figures marked a 17 percentage point increase on a similar poll conducted in May 2019, which found just 24 percent of Americans viewed Iran as an "imminent threat."
Speaking to Ipsos pollsters about the prospect of a "preemptive attack on Iranian military interests," little appetite was found for aggressive maneuvers. A little more than a quarter (27 percent) said America should hit Iran with a "preemptive" strike, while 41 percent opposed any such measure—a 19 point dip on May.
Asked how the U.S. should respond to a hypothetical Iranian attack on military forces, just 8 percent of Americans said "diplomacy only" was the best option, while 34 percent backed a "limited military response" on Iranian military targets with airstrikes.
Newsweek subscription offers >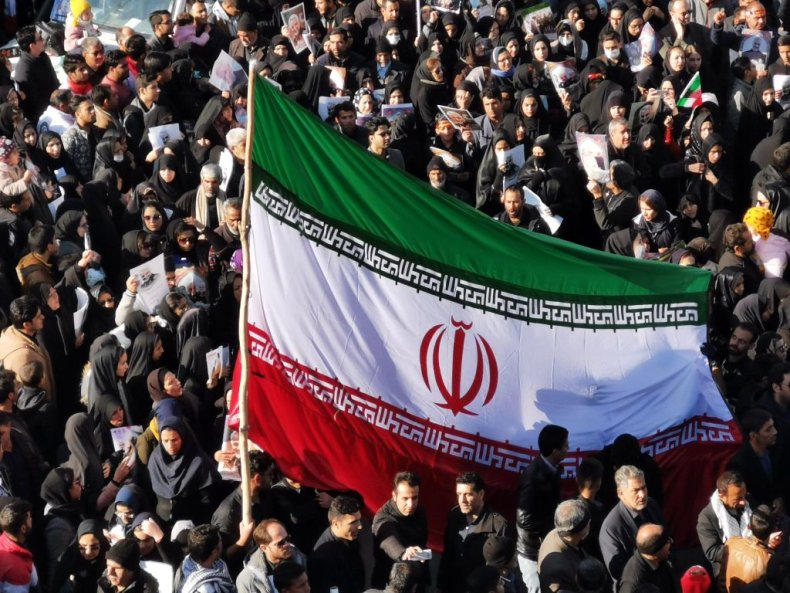 37 percent backed a "full military response" include an invasion of Iran by U.S. ground troops in addition to airstrikes.
The Reuters/Ipsos poll was conducted between January 3-6 with a sample of 1,005 American adults, with demographics to reflect the U.S. population. Interviews were conducted online and the survey's margin of error is 3.5 percent, according to pollsters.
A day after the poll closed on Monday, Iranian forces fired missiles at air bases in Iraq housing U.S. and allied troops. At the time of writing, no casualties have been reported.
Another Reuter/Ipsos poll showed that after the assassination of Soleimani but prior to the responding Iranian missile attack, a majority of Americans were unhappy with President Trump's handling of Iran, as illustrated in the graphic below provided by Statista.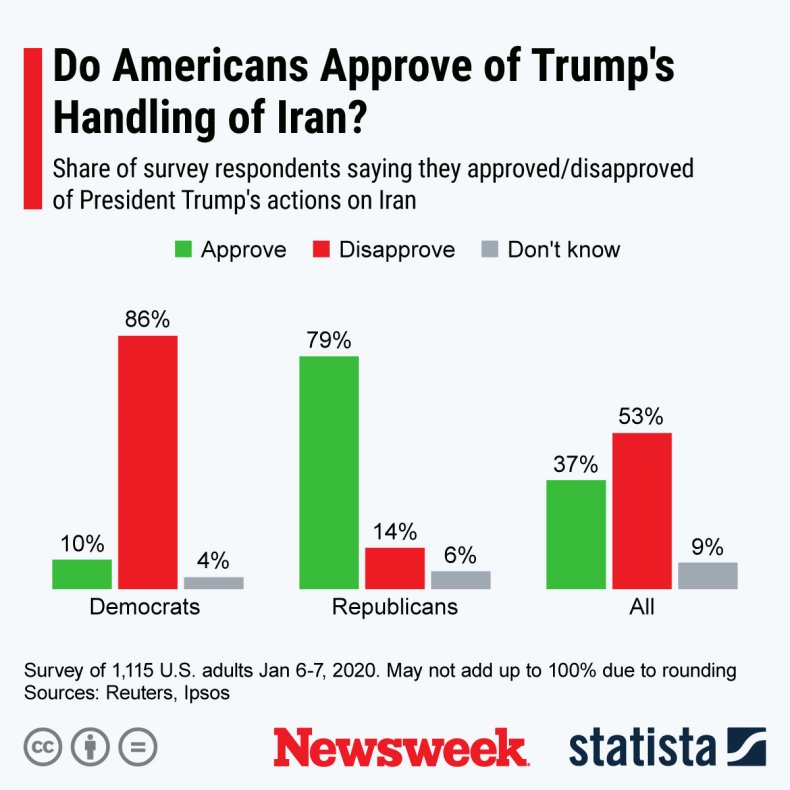 The Iranian Revolutionary Guard said it was behind the strike, dubbing it "revenge for the brutal assassination" of former Quds Force leader Qassem Soleimani in a drone strike near Baghdad International Airport on Friday, January 3.
Following the missile attack, Iranian Foreign Minister Mohammed Javed Zarif said Iran had "concluded proportionate measures in self-defense" and did not seek "escalation or war" with the United States.
In a statement posted to Twitter last night, President Trump said: "All is well! Missiles launched from Iran at two military bases located in Iraq. Assessment of casualties & damages taking place now. So far, so good! We have the most powerful and well equipped military anywhere in the world, by far! I will be making a statement tomorrow morning."
71 Percent of Americans Believe War With Iran is 'Likely' Within Next Few Years: Poll | U.S.