Majority of Americans Disapprove of Trump's Response to Coronavirus Outbreak, Poll Shows
The majority of Americans are unhappy with President Donald Trump's response to the outbreak of coronavirus (COVID-19) in the U.S., and another 39 percent of Americans also say they are less likely to vote for Trump because of his handling of the pandemic, a new poll showed.
The survey, conducted last week by Public Policy Polling, found that 51 percent of respondents disapproved of Trump's handling of the coronavirus outbreak, while just 42 percent approved. Another 7 percent of respondents said they were not sure.
Meanwhile, 39 percent of respondents said Trump's response to the coronavirus would make them less likely to vote for him, while only 19 percent said it would make them more likely to support him in his re-election bid. But 39 percent of respondents also said that the coronavirus response would not make a difference in their November decision.
Trump has repeatedly voiced frustration with critics of his administration's handling of the coronavirus outbreak.
Newsweek subscription offers >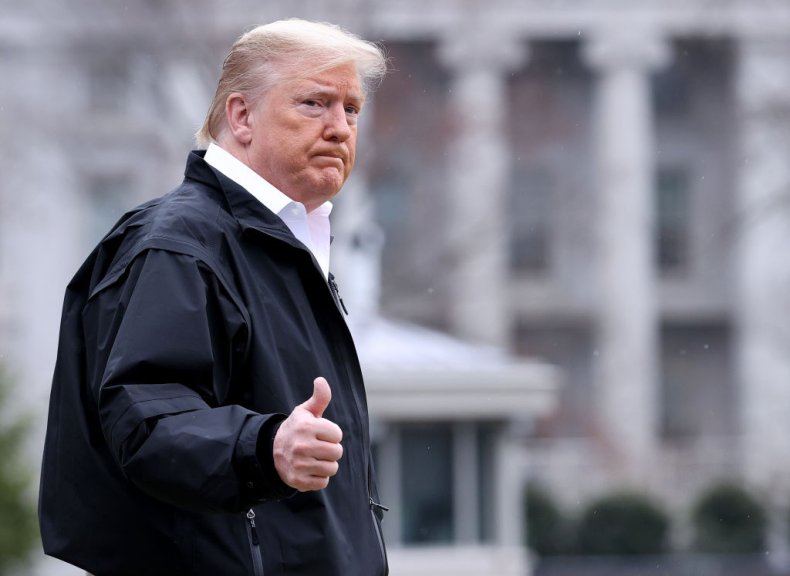 "We have a perfectly coordinated and fine tuned plan at the White House for our attack on CoronaVirus. We moved VERY early to close borders to certain areas, which was a Godsend. V.P. is doing a great job," Trump tweeted on Sunday morning. "The Fake News Media is doing everything possible to make us look bad. Sad!"
Newsweek subscription offers >
On Monday, he attacked Democrats and the media for trying to "inflame" concerns about coronavirus.
"The Fake News Media and their partner, the Democrat Party, is doing everything within its semi-considerable power (it used to be greater!) to inflame the CoronaVirus situation, far beyond what the facts would warrant," he tweeted. "Surgeon General, 'The risk is low to the average American.'"
Trump has faced significant criticism, including from some Republicans, because of his response to the escalating pandemic. On February 28, the president told rally attendees in South Carolina that the virus was a "new hoax" put forward by the Democrats. He later questioned why the common flu vaccine couldn't be used to combat the virus during a meeting with administration officials, and suggested in an interview with Fox News that it was fine for people with the virus to go to work. His administration has also repeatedly disregarded the advice and suggestions of the Centers for Disease Control and Preventions on how to manage the virus' spread.
"I listen to the scientists when it comes to the numbers, and I would encourage the president if he's going to report things to make sure the science is behind what he's saying," Republican Senator Lindsey Graham of South Carolina, a typically staunch Trump defender, told reporters on Thursday.
The death toll from the virus in the U.S. had reached 22 as of Monday morning. Globally, more than 100,000 people have been infected, with the vast majority of the cases having been in China, where coronavirus was first discovered.
The World Health Organization has estimated the death rate from the virus is about 3.4 percent. The rate appears to increase significantly among the elderly and those with pre-existing health conditions, such as respiratory issues, heart disease and diabetes. Meanwhile, people under the age of 30 appear to have significantly milder symptoms and have had a much lower death rate.
Majority of Americans Disapprove of Trump's Response to Coronavirus Outbreak, Poll Shows | U.S.