Majority of Americans Don't Know How Many Jews Were Killed In the Holocaust: Poll
A new Pew Research Center Poll shows that while Americans are aware of what time period the Holocaust took place in and what occurred during it, fewer than half understand how many Jewish people died, nor do they understand how Hitler came to power.
Ultimately, 45 percent of the 10,971 Americans surveyed by Pew correctly answered that roughly 6 million Jewish people died during the Holocaust. The next most popular answer—picked by nearly one in three respondents, or 29 percent of those surveyed—were not sure how many had died. Tying for third place, 12 percent each thought that either 3 million had died, or more than 12 million died. Only 2 percent thought that under a million individuals had died.
One in a hundred individuals, meanwhile, thought that the Holocaust took place between 1950 to 1970. The correct answer—from 1930 to 1950, specifically 1941-1945—drew the highest number of respondents with 69 percent of the poll.
Sixty-five percent of Americans knew about ghettos—parts of towns where Jewish persons were forced to live. But 7 percent of those polled thought that the ghettos were where Jews were killed, and 29 percent of responders didn't answer.
A quarter of Americans believed Adolf Hitler became chancellor of Germany by a violent overthrow of the existing government. But 43 percent had the correct answer—that Hitler rose to power via democratic political processes. Those unsure of the answer or did not answer came in at 28 percent.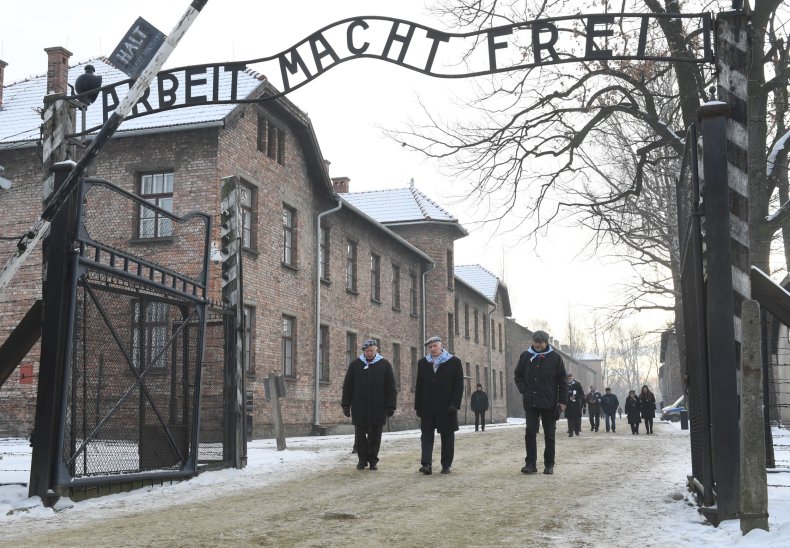 With a spike in anti-Semitic hate crimes noted by recent reports, Pew sought to ascertain whether or not those who didn't know or answer the poll's questions genuinely didn't have knowledge of the Holocaust or were Holocaust deniers—or believers in an anti-Semitic conspiracy theory that claims Jewish people fabricated or embellished what occurred during the Holocaust for their own benefit.
Pew sought to figure this out by applying a "feeling thermometer" to the poll. Asking responders to describe their feelings toward Jewish people as "cold" "neutral" or "warm," the data shows that a large portion of those who described their feelings as "warm" or "neutral" toward Jews underestimated the amount of Jewish people who died during the Holocaust. Those who described their feelings as "cold" toward Jewish persons—9 percent—tended to overestimate the number of those killed in the Holocaust.
It also noted that 67 percent of those who answered three out of four of the questions offered correctly considered their feelings toward Jewish people to be "warm."
Broken down along religious lines, Pew notes that Jewish persons, atheists and agnostics were more knowledgeable about the poll's answers than Catholics.
A lack of education in respondents was also a factor. College graduates were nearly 30 percent more likely to answer questions correctly when compared to those who had not finished high school. Those who had visited a Holocaust memorial and museum were roughly 20 percent more likely to answer the questions correctly.
Older Americans were also slightly more likely to be able to answer questions about the Holocaust correctly than their younger counterparts. Teenagers 13 to 17, meanwhile, produced similar results to their adult counterparts when surveyed.
The results of Pew's poll were published on Wednesday just ahead of International Holocaust Remembrance Day. January 27 will mark the 75th anniversary of the liberation of Auschwitz, a date marked with worldwide ceremonies and gestures of remembrance. Roughly 200 survivors are slated to attend ceremonies at Auschwitz on Monday.
The poll was conducted from February 4 to 19 in 2019, and has an error margin of plus or minus 1.5 percentage points.