Majority of Americans Don't Want Trump to Run for Re-Election, Including Nearly 20 Percent of Republicans, Poll Finds
A majority of Americans don't want President Donald Trump to run for re-election in 2020, a new poll from YouGov found this week.
Fifty-four percent of respondents told the polling firm they didn't want the former reality television star to run again. Just 28 percent answered "yes" when asked if Trump should give it another go in 2020.
Democrats, perhaps predictably, were more likely to say they would prefer Trump not run for re-election. Eighty-seven percent didn't want him to run again, compared with just 7 percent who said they did want him to run. But a fair number of Republicans, Trump's own party, also said they didn't want to see another campaign from the blustery billionaire. Eighteen percent said they didn't want him to run again, while 65 percent said they did want him to run again. Sixteen percent of GOP respondents answered "not sure."
A majority of independents—51 percent—didn't want to see Trump run again, compared with 22 percent who did and 27 percent who were not sure. The survey interviewed 1,500 adults from March 18 through March 20 and had a margin of error of 3.1 percentage points.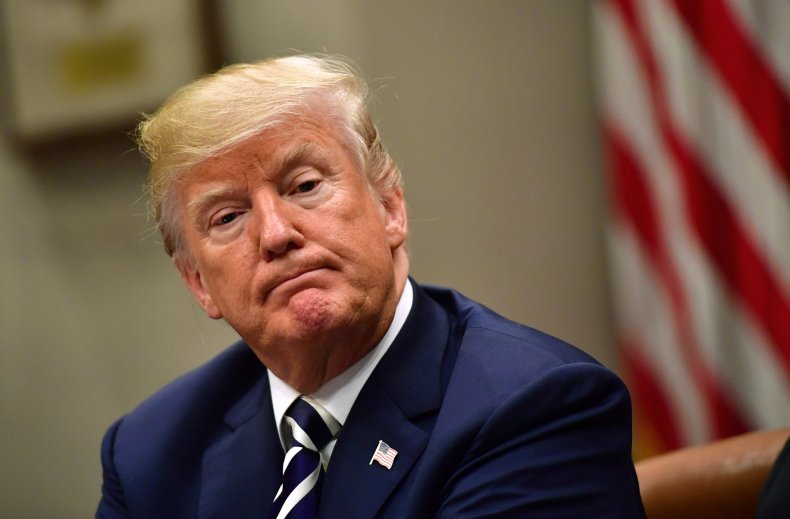 It appears that Trump has every intention of running again. He announced his re-election campaign earlier than any other sitting president and has already tapped his 2016 digital director, Brad Parscale, to run his 2020 campaign.
However, he remains remarkably unpopular. A pair of polls this week from the American Research Group and Quinnipiac University pegged his approval rating right around 40 percent. Data-focused website FiveThirtyEight, meanwhile, had Trump's average approval rating at 40.6 percent on Thursday, which was day 427 of his presidency. The tracker from FiveThirtyEight showed no other president dating back to Harry Truman had such a low approval rating on day 427 of his presidency.