Majority of Americans Hold Negative View of Critical Race Theory Amid Controversy
The majority of Americans have an unfavorable view of critical race theory, a new poll shows.
The Economist/YouGov poll released on Wednesday showed 58 percent of Americans polled find the controversial circulum somewhat or very unfavorable. Only 38 percent said they viewed critical race theory favorably.
The poll surveyed 1,500 American adults. They were asked first if they had heard of critical race theory, of which 64 percent responded said they had heard at least a little bit about it. The survey asked the 64 percent if they had a "good idea" of what the theory is. Over half of them said yes, 23 percent said no and 23 percent said they were unsure. The 54 percent who replied yes were asked the favorability question.
In a breakdown of the polling numbers, 82 percent of the people who voted for President Joe Biden in the 2020 election view critical race theory at least somewhat favorably. President Donald Trump's voters make up only 5 percent of the favorable number.
The majority of Black people surveyed find critical race theory to be at least somewhat favorable at 68 percent. Only 31 percent of white people find it to be at least somewhat favorable.
Critical race theory is most unpopular in the South, according to the poll. Fifty-eight percent of Southerners polled find it to be very unfavorable and 5 percent say it's somewhat unfavorable.
Those who responded they had an idea of what critical race theory is also were asked whether they believed it was good for the county or bad. Fifty-five percent of respondents replied it was bad, while 37 percent said it was good and 8 percent were indifferent.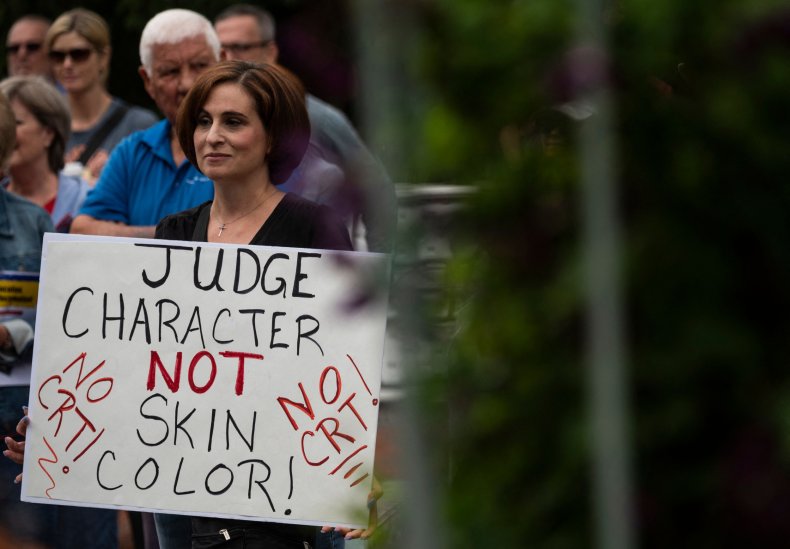 Critical race theory has gained the attention of many Americans in the past year. Race-related movements and the spawning of the New York Times' Pulitzer Prize-winning "1619 Project," which is an initiative to "reframe the country's history by placing the consequences of slavery and the contributions of Black Americans at the very center of our national narrative," according to the Times.
Critical race theory challenges the way American history is taught in schools. The academic framework has received much criticism from Republican lawmakers, school staff and parents of children whose schools have adopted the method.
Critics oppose critical race theory for highlighting systemic racism in America. The Washington Post reported the opposition does not like how the theory makes white people "feel guilty for their skin color."
Protests have taken place around the county in order to stop critical race theory from being taught in schools.
The Economist/YouGov surveyed 1,500 U.S. Adults from June 13 to June 15.