Majority of Americans Not Ready to Visit Restaurants, Stores Amid Ongoing Pandemic—Poll
Almost six in ten Americans are not yet willing to visit restaurants, stores and other public spaces, according to new polling data.
The latest survey from ABC News and The Washington Post found that 58 percent of Americans feel it is "too early" for them to visit the public areas as the novel coronavirus continues to spread across the U.S.
Forty-percent of surveyed U.S. adults told pollsters that they are now willing to visit restaurants and stores—which have started reopening in the wake of pandemic lockdown measures being eased nationwide.
Pollsters found that most Americans are reluctant to visit the public spaces as almost two-thirds (63 percent) said they were still very or somewhat fearful of catching the virus.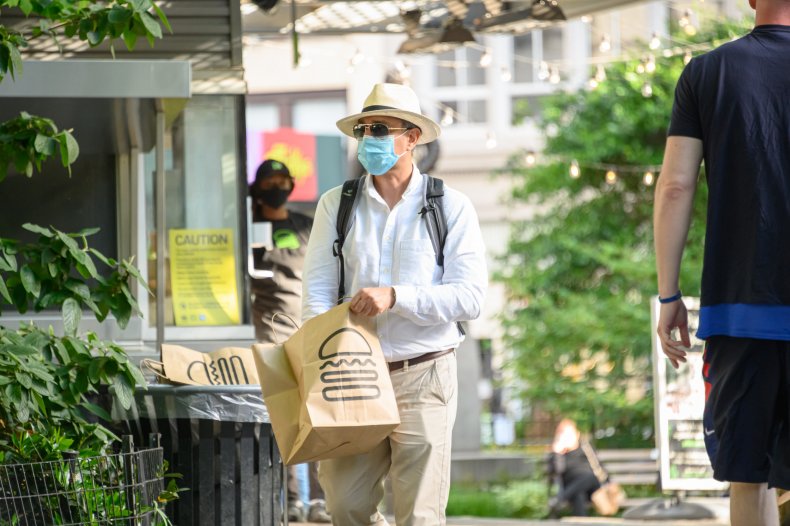 A further 68 percent of U.S. adults said they are worried about a second wave of COVID-19 infections hitting the country—which has already recorded more than 1.7 million coronavirus cases and over 100,000 related deaths.
When the same poll was conducted at the height of the pandemic in late March, 69 percent said they were worried about them or someone in their immediate family catching the disease.
A little more than four in ten (42 percent) also said they personally knew someone who had been diagnosed with the novel coronavirus, up 31 percentage points on late March.
Asked whether it was more important to control the virus or restart the economy for the latest ABC News/Washington Post poll, 57 percent said it was more important to contain the spread of COVID-19.
Restarting the economy was 20-points behind, with only 37 percent saying reopening businesses should be the U.S.' top priority.
However, there was clear recognition that the novel coronavirus pandemic had hit local economies hard.
Fifty-nine percent of polled Americans said the COVID-19 outbreak had a serious economic impact on their community, with that number rising to 61 percent among black and 60 percent among whites.
A little less than a quarter (24 percent) of Americans with full- or part-time jobs before the pandemic said they were either unemployed or furloughed without pay.
Among those with household incomes below $50,000 a year, the proportion of furloughed and unemployed workers rose to 36 percent. By comparison, 17 percent of American workers in households taking home more than $50,000 a year reported being furloughed or unemployed.
Despite the unemployment numbers, 52 percent still approved of President Donald Trump's handling of the U.S. economy while 44 percent said they disapproved.
Fifty-seven percent also said Trump had made a "good" or "excellent" effort to provide those in need with financial help during the coronavirus pandemic.
The new ABC News/Washington Post poll surveyed 1,001 U.S adults between May 25 and May 28. Its margin of error stands at 3.5 percentage points.