As the Defund the Police movement grows, a poll found the majority of Americans oppose cutting funding for police departments.
A YouGov/Yahoo! News poll released Tuesday asked 1,060 adults if they supported cutting funds for police departments in an effort to reduce deadly force encounters. Of the options available, cutting funding received the least amount of support with 16 percent of people responding that they favored the measure. Of the people YouGov polled, 64 percent self-identified as white, 12 percent as Black, 15 percent as Hispanic and 9 percent as "other."
The poll comes after Black Lives Matter and other activists have called for defunding the police and diverting the funds to invest in Black communities and resources. A Change.org petition for the Atlanta City Council to defund the police received more than 26,000 signatures in four days.
Newsweek reached out to Black Lives Matter for comment on the poll's results but did not receive a response in time for publication.
In Minneapolis, where George Floyd's death inspired protests across the nation, nine of the 13 City Council members announced their intent to disband the police department. Council President Lisa Bender told CNN's Chris Cuomo on Monday night that they pledged to start a year-long conversation with residents to "help us reimagine what public safety looks like."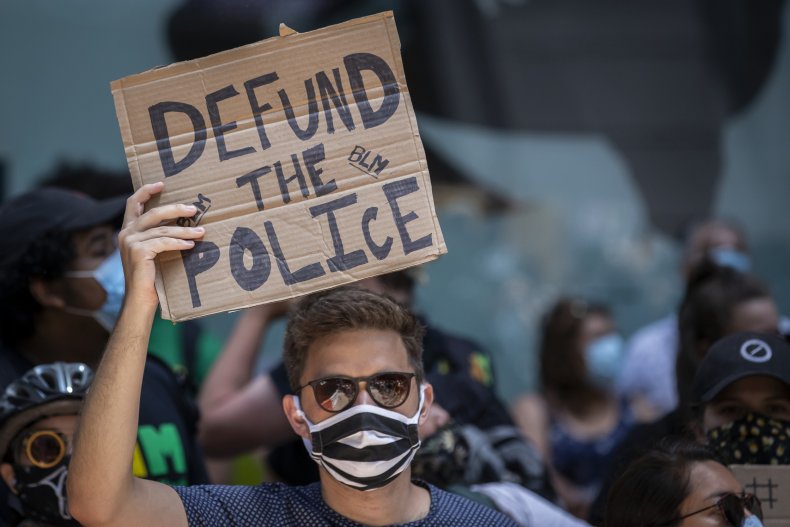 Earlier in the day, Bender told CNN's Aliysn Camerota she could imagine a police-free future, although she acknowledged it was a "long way away" and would require an "enormous amount of investment." When asked what would happen to someone dealing with a burglar in the middle of the night if there was no police department, Bender said that worry "comes from a place of privilege."
Cuomo pushed back on her comment about privilege, saying that regardless of race, "we need police." Bender agreed that the number one priority is the safety of the entire community and said moving forward there needs to be "someone to call" if there's a problem.
"But we have a crisis of confidence in our police department," Bender said. "We need to make sure when you call, the public has confidence that that department, that system is keeping people safe."
If cities were to dismantle their police departments, President Donald Trump said it would be "very sad," and posted on Twitter that the "radical left democrats have gone crazy." Senate Majority Leader Mitch McConnell also bucked the idea, posting on Twitter that abolishing police "would only take us farther away from the safety, justice and equal protection of the laws that every single American deserves."
Democrats on Capitol Hill have also separated themselves from the call to defund the police. Senator Joe Manchin told Politico that defunding the police is "stupid," "crazy," and "anyone who talks about that is nuts" adding, "you have to have the police."
Other Democratic legislators called the idea a distraction and Democratic presidential nominee Joe Biden said on Monday that he doesn't support defunding the police.
"I support conditioning federal aid to police based on whether or not they meet certain basic standards of decency and honorableness," Biden told CBS. "And, in fact, are able to demonstrate they can protect the community and everybody in the community."
Respondents to YouGov's poll said they favored training police on how to de-escalate conflicts, outfitting all officers with body cameras and implementing an early warning system to identify problematic officers.