Guns in America: A Majority of Americans Polled Oppose Carrying Firearms in Public Places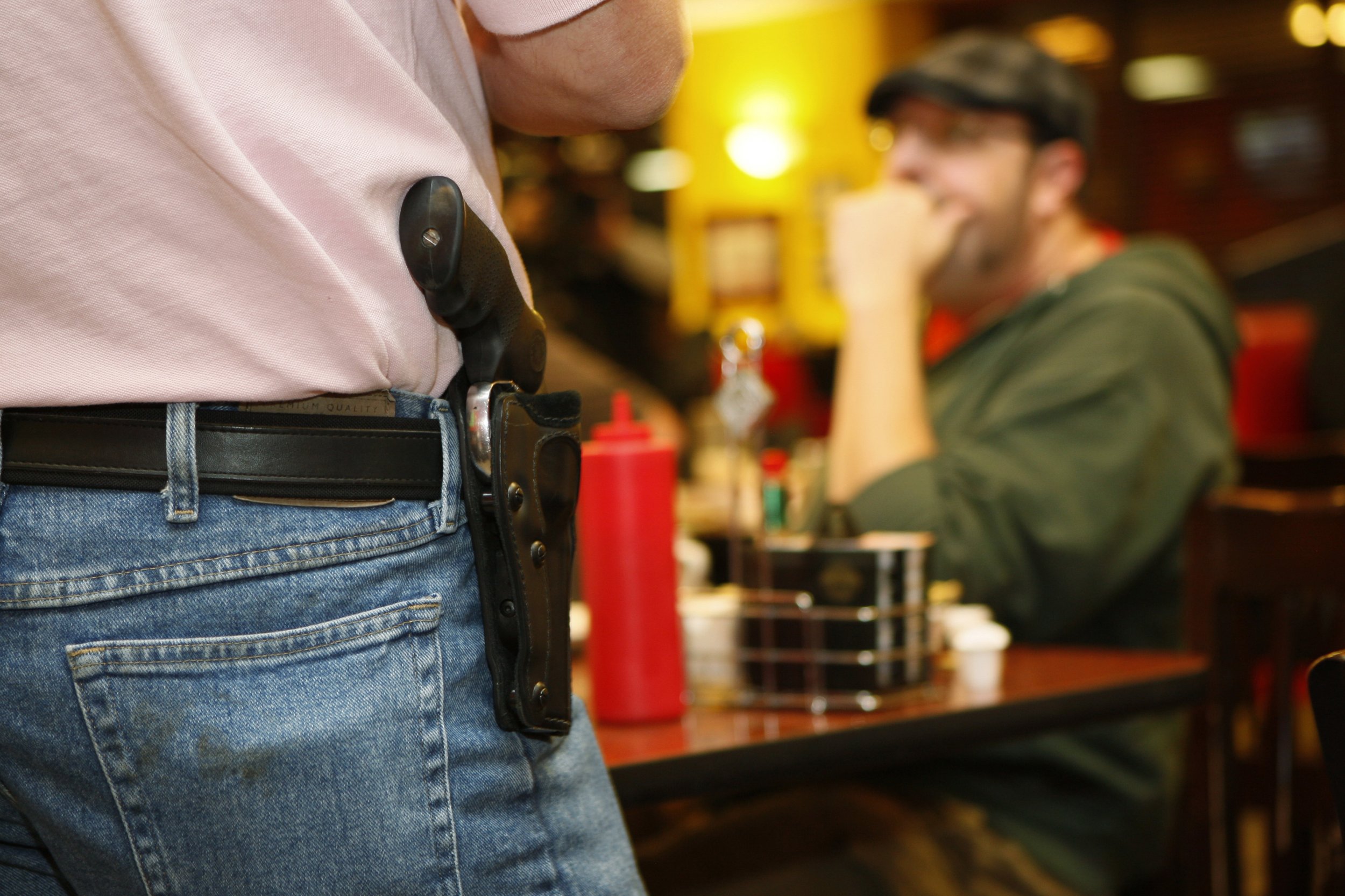 Even as Republican lawmakers in Washington and across the country attempt to lift gun restrictions, a new study has found that two-thirds of Americans, including many gun owners and veterans, support restrictions on the public places where legal owners can carry their firearms.
Researchers who conducted the web-based study, published Thursday in the American Journal of Public Health, found that fewer than one in three respondents supported allowing guns to be carried on college campuses, in government buildings and at schools, bars, places of worship and other specified public places.
Related: Guns in America: Arkansas responds to concealed carry backlash
Researchers from the University of Michigan and Harvard, Northeastern and Johns Hopkins universities surveyed 3,949 adults about whether law-abiding residents should be allowed to carry guns in nine public places. Restaurants (33 percent), service settings (31 percent) and retail stores (31 percent) were the only locations in which more than 30 percent of Americans thought people should be allowed to carry guns, according to the results. Support for carrying guns in public was lowest for schools (19 percent), bars (18 percent) and sports stadiums (17 percent).
The results show that a higher percentage of even those who own guns favor placing restrictions on where residents can carry firearms, though gun owners were more likely than those who don't own firearms to back the idea of allowing the weapons in public. Among gun owners, support was greatest for allowing guns to be carried in restaurants (59 percent), and lowest for carrying in bars (26 percent).
Still, 25 percent of gun owners, 53 percent of non–gun owners in households without guns and 42 percent of non-gun owners in households with guns think firearms should not be allowed to be carried in any of the nine public venues, according to the study.
Federal law prohibits citizens from carrying guns on some federal property, and most states place some restrictions on where residents can carry firearms. Regardless of gun ownership status, very few Americans supported allowing people to carry guns in all public places (16 percent of gun owners; 9 percent of non–gun owners in households with guns; and 7 percent of non–gun owners in non-gun households).
Between the time researchers conducted the study online in April 2015 and published it this week, several states have passed laws or are moving bills through legislatures to expand where residents can carry guns in public, including at bars and on college campuses. In Arkansas, for example, the Republican governor in March signed a sweeping gun law—backed by the National Rifle Association—that permits anyone aged 21 or older to carry concealed firearms in the state Capitol, some bars, on college campuses and in other public places that previously were off-limits. But after widespread public backlash over the idea of permitting guns at college athletic events, including inside the 72,000-seat facility at the University of Arkansas, Governor Asa Hutchinson signed another bill to allow colleges to decide whether fans may bring firearms to those events.
With President Donald Trump's support, the U.S. could soon see changes in where concealed guns are allowed across the country. The NRA is pushing national concealed carry reciprocity, which would require states that issue permits allowing gun owners to carry concealed weapons to recognize such permits from other states. In the abstract conclusion of their study, the researchers wrote, "Recent state laws and proposed federal legislation that would force states to honor out-of-state concealed carry permits are out of step with American public opinion."