Majority of Americans Say Businesses Reopened Too Quickly: Poll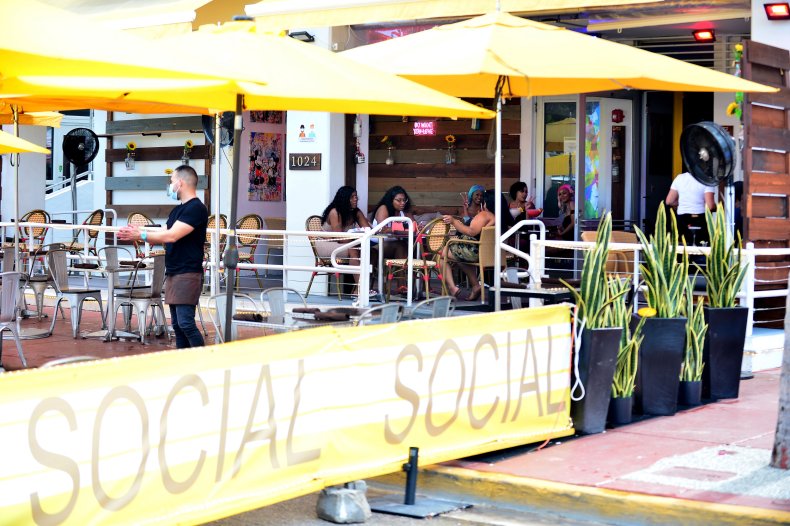 A majority of Americans said that they believe businesses across the country reopened too quickly, according to a new poll.
According to the poll, conducted by NBC News/Survey Monkey, Americans were asked if they were more concerned about businesses reopening too quickly or too slowly. The poll found that 63 percent of Americans believe businesses were reopening too quickly, while 33 percent said too slowly. The remaining four percent had no answer. The poll surveyed 44,557 U.S. adults from June 29 to July 5. The poll has a margin of error of plus or minus 1 percentage point.
When looking at specific political party affiliation, the poll found that Republicans and Democrats have differing views on the speed of businesses reopening. According to the poll, 61 percent of Republicans said that businesses were reopening too slowly, while 37 percent said the opposite.
In contrast, 87 percent of Democrats said that businesses were reopening too quickly, compared to 11 percent who said doors were opening too slowly.
The poll's findings come as cases of the novel coronavirus, which causes the disease COVID-19, continue to surge across the country. According to a tracker provided by Johns Hopkins University, as of Tuesday, more than 2.9 million cases of the virus were confirmed across the U.S. At least 130,306 deaths from COVID-19 had been confirmed.
While the virus has continued to spread throughout the U.S., several states, such as Florida, California, Texas and Arizona have seen spikes in cases over the past few weeks. These spikes have caused governors in Arizona and California to pause their phased reopening plans to curb to spread.
The poll also found that more Americans trust state governors more than President Donald Trump to make decisions about when businesses should reopen in their respective areas. According to the poll, 70 percent of respondents said they trust their state governor more, while 25 percent said they trust Trump more.
When looking at the potential of a second wave of coronavirus cases, the poll found that a majority of Americans, or 79 percent, said they are worried one could occur. Among those who say they're worried, 50 percent said they are very worried about it, while 29 percent said they somewhat were.
Newsweek reached out to the Department of Health and Human Services for comment on the poll's findings but did not receive a response in time for publication.