Majority of Americans Say Inflation Has Affected Their Lives, and They Blame Joe Biden
Most Americans report that they are being affected by rising prices, and they're pointing the finger at President Joe Biden.
A new poll from Yahoo News/YouGov found inflation had personally impacted 76 percent of U.S. adults who responded to the survey. Nearly a third of respondents said the issue affected them "a great deal" and 45 percent said it impacted their lives "some."
Inflation is at nearly a 40-year high amid supply chain constraints and significant demand from consumers. The Labor Department reported that consumer prices jumped nearly 7 percent in November compared to the same period a year ago.
Many blame Biden for the price increases, according to the poll. A majority of respondents said Biden is responsible for the economic issue, while less than a third said he's off the hook.
Most respondents, 33 percent, said Biden deserves the most blame for inflation. Thirty percent of people said disruptions caused by the coronavirus pandemic bear the most responsibility, and 16 percent said former President Donald Trump is to blame.
The White House has argued that supply chain woes are the culprit driving prices, but said the issue should be temporary.
"I think you'll see it change sooner, quicker, more rapidly than most people think," Biden said at the Summit for Democracy on December 10. "Every other aspect of the economy is racing ahead. It's doing incredibly well. We've never had this kind of growth in 60 years. But inflation is affecting people's lives."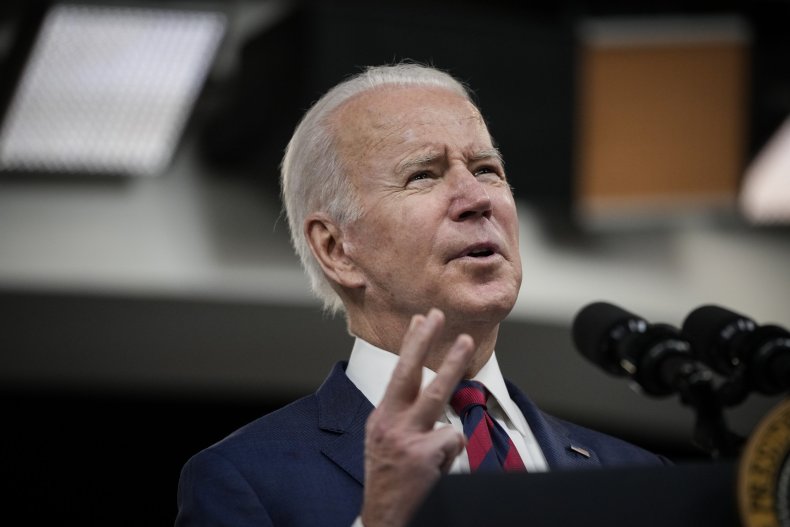 The administration has also repeatedly asserted that the passage of the president's Build Back Better act to help ease inflationary pressures, often citing a letter from 17 Nobel Prize-winning economists who said the legislation will "ease longer-term inflationary pressures" by investing in economic capacity.
The sweeping, $1.7 trillion social spending package has stalled in Congress after months of negotiations. The bill passed the House of Representatives along party lines but has yet to be taken up in the Senate, where it faces opposition from West Virginia's Joe Manchin—a critical vote in the 50-50 chamber.
Senate Majority Leader Chuck Schumer has vowed to bring the bill up for a vote despite Manchin's opposition in the new year, and the White House has said Biden will "fight like hell" to get it across the finish line.
Biden said earlier this month that Build Back Better will aid in "reducing costs for ordinary people."
Newsweek has contacted the White House for comment on the poll.
Yahoo/YouGov surveyed 1,558 U.S. adults between December 9 and December 13. The poll has a margin of error of plus or minus 2.7 percentage points.