Majority of Americans Say Trump's Senate Acquittal Doesn't Clear Him of Wrongdoing in Ukraine Scandal: Poll
A small majority of Americans believe the Senate's acquittal of President Donald Trump does not clear him of wrongdoing in relation to his conduct in Ukraine, according to a new poll.
The Republican-led Senate last Wednesday voted against removing Trump from office—48-52 on abuse of power and 47-53 on obstruction of Congress charge—making him the third U.S. president in history to be acquitted from House-passed articles of impeachment. Ahead of the vote, a majority of the American public indicated in polls that they supported Trump's impeachment and removal from office, but Democrats needed 67 votes, two-thirds, to convict Trump, a longshot outcome given the political makeup of the Senate's members.
The latest Quinnipiac University survey, released Monday, showed that 55 percent of registered voters say the acquittal does not clear Trump of any wrongdoing in the Ukraine matter, while 40 percent said it did. Respondents mostly voted along party lines, with 81 percent of Republicans believing that the acquittal clears Trump, while 91 percent of Democrats and 54 percent of independents say it does not.
American voters were evenly split—49-49—on the Senate's decision to acquit Trump on both articles of impeachment. Respondents heavily voted along party lines, with 95 percent of Republicans approving and 90 percent of Democrats disapproving. Of independent voters, 53 percent approved, while 45 percent disapproved.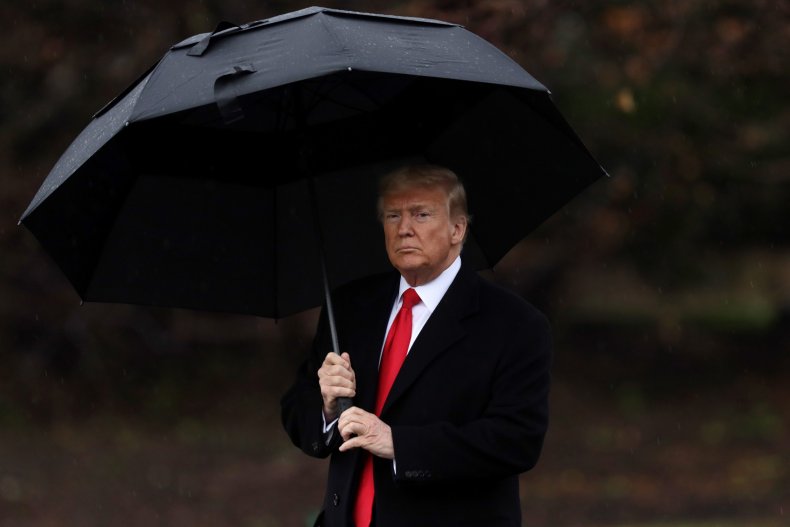 Senator Mitt Romney was the only GOP member who voted to convict the president on one abuse of power charge, and the only in the trial that Democrats deemed an unfair "sham" after Republicans voted to block new witnesses from testifying.
In the data, 59 percent of voters say the Senate impeachment trial was conducted unfairly, compared to 35 percent who say they were fair. The poll surveyed 1,519 self-identified registered voters nationwide between February 5 to 9. The margin of error is plus or minus 2.5 percentage points.
Newsweek reached out to the White House for comment.
Republican Senator Rick Scott introduced a constitutional amendment to rules governing impeachment on Thursday, one day after Trump's acquittal, to raise the threshold required from a simple majority to a 60 percent supermajority. He argued that the Democrats had executed a "partisan charade" with Trump's impeachment and claimed that his proposed legislation will prevent "partisan actors" from using impeachment as a "partisan tool."
The chances of the amendment succeeding is small. A two-thirds supermajority is needed in the House and Senate, as well as ratification by at least 38 states. The 27th amendment, which became part of the Constitution in 1992, was the last constitutional amendment ratified.