Majority of Americans Say U.S. System of Government Is 'Not Sound' for First Time: Poll
A majority of Americans believe that the U.S. system of government is no longer "basically sound," according to a new poll.
A Monmouth University poll released Monday found that 55 percent of participants believed that the system was not sound, with 44 percent disagreeing. Only 7 percent believed that the system was sound and required no changes at all, while 37 said it was sound but needed some improvement. Of those who said it was not sound, 33 percent said it needed "many improvements" and 22 percent said "significant changes" were required.
While the 58 percent of Republicans who said the system was not sound was the largest majority, most Democrats and independents also expressed a lack of confidence in the system. A Monmouth poll from one year earlier found that only 28 percent of Republicans thought the system was not sound, with 65 percent of Democrats agreeing.
The overall result also marked a change from previous polling, with between 50 percent and 55 percent of Americans believing that the government system was sound in surveys taken since 2017. The first survey to ask the question, from Opinion Research Corporation in 1980, found that 62 percent of Americans believed that the system of government was sound.
"The increased lack of confidence in the American system is built on a foundation of partisan hostility. Those differences are no longer limited to views on policy," Patrick Murray, director of the Monmouth University Polling Institute, said in a statement. "They now extend to an underlying distrust of our democratic institutions themselves. Partisan tribalism is coming home to roost in a way that threatens the very stability of our system."
"This is the environment in which this week's impeachment trial takes place," added Murray. "Fear of the most fanatical part of the partisan base is a bigger driver of what many leaders are willing to do and say in public than are concerns about eroding trust in the democratic process itself."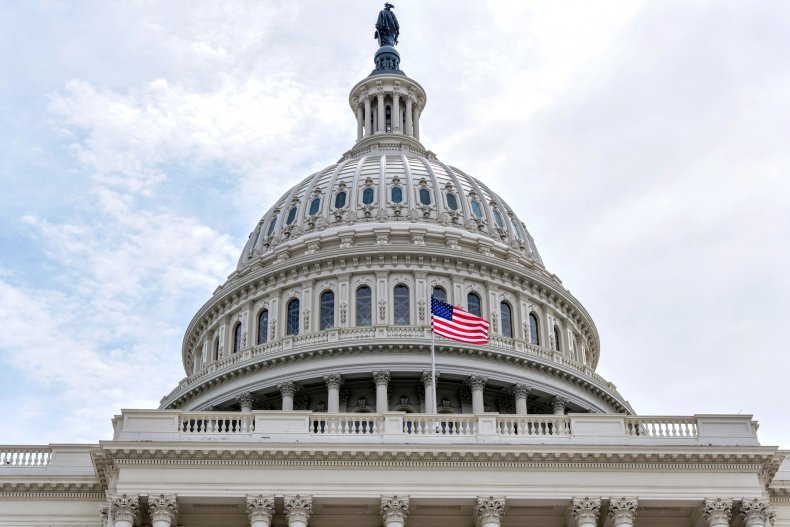 The new Monmouth poll also found that 45 percent of respondents believed that "the American way of life" is currently under "a great deal" of threat, while 34 percent felt there was "some" threat. Only 7 percent said it was "not at all" under threat, with 14 percent saying there was "not much" threat.
Three out of four poll respondents agreed that "Americans are greatly divided," while 23 percent said that the country is "united" and 2 percent responded that they "don't know." However, a 37 percent plurality said that they believed the country would become more united during the next year. Another 36 percent said they expected no change and 26 percent expected the country to become more divided.
At least some confidence in President Joe Biden's ability to "unify the country" was expressed by a majority of respondents, with 37 percent saying they are "somewhat confident" in the president and 19 percent saying that are "very confident." Of those who were not confident in Biden, 25 percent said they were "not at all" confident and 18 percent said they were "not too confident."
The poll was conducted among 809 U.S. adults over landline telephones and cell phones between January 21 and January 24. It has a margin of error of 3.5 percent.
Newsweek reached out to the White House for comment.