Majority of Americans in States That Have Eased Coronavirus Restrictions Oppose Reopening of Businesses
The majority of Americans in states that have eased novel coronavirus lockdown restrictions remain opposed to reopening businesses, new polling has shown.
Governors in multiple states have significantly eased social distancing requirements, with some allowing their states stay-at-home orders to expire altogether, as right-wing groups have staged protests across the country against lockdown measures. But new polling data from The Washington Post and the University of Maryland, published Tuesday, shows that most Americans would prefer their states' leaders to take a cautious approach.
The survey data showed that 82 percent of respondents were opposed to allowing movie theaters to reopen, while 74 percent opposed dine-in restaurants and nail salons reopening. Additionally, 70 percent believed gun stores should be shuttered, while 69 percent believed barbershops and salons should be closed down.
"People in states with looser restrictions report similar levels of discomfort as those in states with stricter rules," The Post explained in an analysis of the polling data.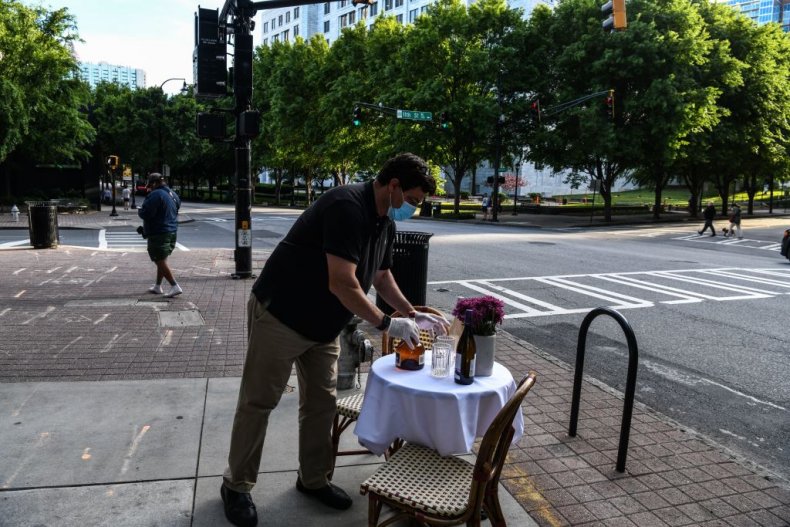 Even if dine-in restaurants and retail shops reopen, as some governors have now allowed, most Americans say they would personally feel uncomfortable going inside the businesses for the time being. For restaurants, 78 percent of respondents said they'd be uncomfortable to dine inside, while 67 percent said they would not be comfortable shopping at a retail clothing store.
The poll results also showed that the majority of Americans continue to give their states' governors positive marks on their response to the crisis, while most Americans view President Donald Trump's response negatively. Seventy-five percent of respondents rated their governor's handling of the crisis as "excellent" or "good," while just 44 percent said the same of Trump's response to the pandemic.
Separate polling by Morning Consult correlates with The Post/University of Maryland data. The market research company's data, which was published on Monday, showed that only 18 percent of U.S. adults would be comfortable eating at a restaurant, and just 17 percent would feel fine about going to a shopping mall.
Both polls noted a divide between Republicans and Democrats, with more GOP voters willing for life to return to normal. But overall, the majority of supporters from both parties continue to express discomfort with businesses reopening.
Although some states have begun to flatten the curve of new coronavirus infections, the novel virus continues to spread throughout the country. As of Tuesday morning, more than 1.18 million people have been confirmed to have COVID-19, according to a tracker updated by Johns Hopkins University. Of those infected, nearly 69,000 have died while more than 187,000 have recovered.