Majority of Americans Support Allowing Refugees Into U.S. As Trump Aims to Restrict Legal Immigration
As the Trump administration seeks to cut down on legal immigration, a new poll shows that a growing majority of Americans support allowing Central American refugees into the United States.
According to Gallup, 57 percent of Americans approve of taking in Central American refugees. That's six points higher from a similar poll conducted in December 2018, which showed that support was at 51 percent.
The higher support is due to an increase in approval from Republicans and independents. Republican support jumped from 14 percent to 24 percent since December 2018. Approval from independents rose from 52 percent to 58 percent.
Approval for allowing Central American refugees entry into the U.S. is higher than most refugee cases examined by Gallup. In 2015, during the Syrian civil war, only 37 percent of Americans supported taking in refugees from the conflict area. During the Holocaust, support for taking in refugees from Europe was only at 16 percent.
The most recent Gallup poll, which was conducted from July 15 to July 31, also showed that just 39 percent of Americans would describe the situation at the southern border a "crisis." Thirty-five percent of those polled said it was a "major problem."
That's a marked split from President Donald Trump's rhetoric on conditions at the U.S.-Mexico border. He's repeatedly called the increase in migrants from Mexico, Guatemala and Honduras a "humanitarian crisis" and "an invasion" of our country.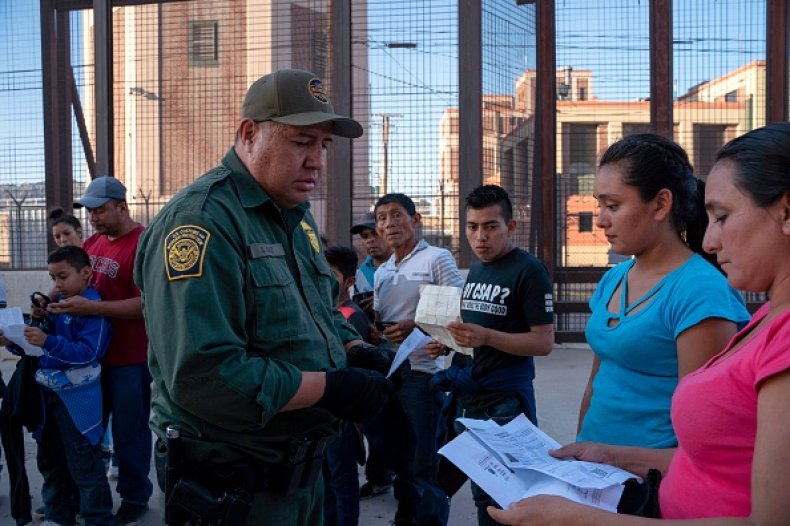 On Monday, the Trump administration announced that a new regulation aimed at curbing legal immigration. Under the new rule change, immigrants who use public benefits like Medicaid, food stamps or housing assistance could have a harder time being granted green cards and visa applications. It's expected to impact over 380,000 people seeking to adjust their immigration status.
Citizenship and Immigration Services Director Ken Cuccinelli said the rule change will encourage "self-reliance and self-sufficiency for those seeking to come to or stay in the United States."
Immigration advocates blasted the regulation, arguing that it unfairly targets low-income migrants. Cuccinelli responded to the backlash by saying that the government fully expects immigrants "of any income to be able to stand on their own two feet."
The move is part of the Trump administration's efforts to curb both legal and illegal immigration. Over the past two and a half years, the government has reduced the number of refugees admitted to the U.S., restricted asylum seekers and expanded deportations of undocumented migrants.
Trump has been under fire for his anti-immigrant rhetoric after a racially-motivated shooting in El Paso, Texas left 22 people dead and dozens more injured. Some of Trump's own language about immigration was also used by the gunman in a racist, anti-Hispanic manifesto.
Former Texas congressman and 2020 Democratic hopeful Beto O'Rourke in part blamed Trump's rhetoric for the deadly attack.
"We've had a rise in hate crimes every single one of the last three years, during an administration where you have a president who's called Mexicans rapists and criminals," O'Rourke told reporters. "He is a racist, and he stokes racism in this country."
In response to the El Paso shooting, Trump said the U.S. must condemn "racism, bigotry and white supremacy." He added that "these barbaric slaughters are an assault upon our communities, an attack upon our nation and a crime against all of humanity."