Majority of Americans Support Relief for State Governments After Aid Excluded From COVID Bill
One element of coronavirus relief that was left out of the $900 billion bill passed by Congress earlier this year has overwhelming support among the American public: funding for state governments.
A new poll from YouGov found that 69 percent of U.S. adults support additional COVID-19 relief money going to their state government. Forty-eight percent of those surveyed "strongly" supported the idea and 21 percent "somewhat" supported it.
Just 18 percent of Americans opposed more aid for state governments: 7 percent "somewhat" opposed the funding and 11 percent "strongly" opposed it.
The survey, which polled 8,113 U.S. adults, was conducted just days after Congress reached a deal on a second stimulus package. The legislation was passed nearly nine months after the historic $2 trillion CARES Act.
The new bill lacks new money for state and local governments even as mayors and governors have been sounding alarms over budget shortfalls brought on by the pandemic and economic downturn. The National Association of Counties said it was "extremely disappointed" that the package excludes relief for governments across the country.
"Despite the fact that more than 1 million local government employees have lost their jobs, and counties face a daily onslaught of fatalities and economic hardships in our communities, local governments did not get the direct relief they asked from our federal partners," the coalition said in a statement.
Democrats on Capitol Hill had originally pushed for $1 trillion in aid for state and local governments in the HEROES Act passed by the House of Representatives back in May. During negotiations with Republicans for the latest legislation, the Democrats lowered their request for state aid to roughly $160 billion.
But the aid was left off the table, along with the Republican request for liability protections, in order to secure a COVID-19 relief deal before the end of the year.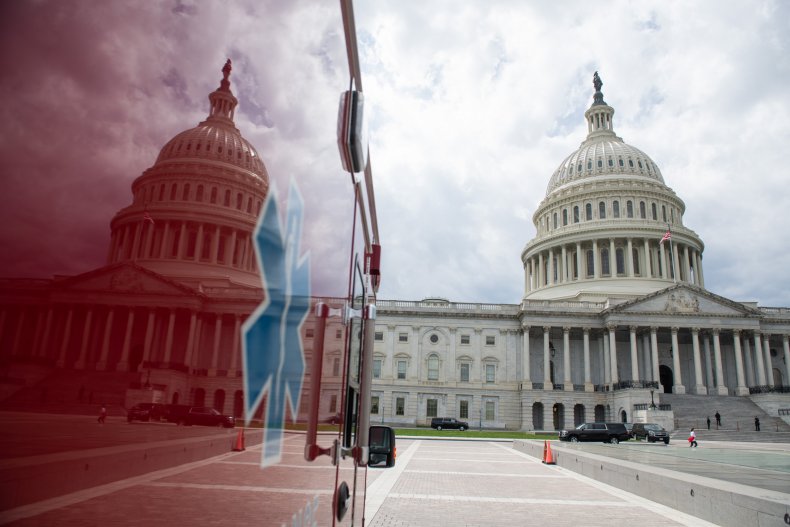 Federal Reserve chair Jerome Powell said it was "a concern" that at least 1.3 million public sector workers have been laid off by local governments since the start of the pandemic. Powell said at a press conference last week that it was a "very large number of people to be out of work from just that one source."
President-elect Joe Biden has pledged to help local governments once his administration takes office in late January. During negotiations, he urged lawmakers to include the funding in their next COVID-19 bill.
"States and cities are already facing large, large budget shortfalls this year. Again through no fault of their own," Biden said while giving remarks on the state of the economy on December 4. "They've already laid off more than a million workers. Even more teachers, firefighters, cops will lose their jobs unless the federal government steps up now."