Majority of Americans Support Sessions, Mueller Investigation, Poll Finds
Donald Trump's disapproval rating has hit an all-time high of 60 percent, with nearly half (49 percent) of Americans believing Congress should proceed with impeachment proceedings against the president, according to a poll.
Elsewhere, 53 percent think Trump has tried to interfere with special counsel Robert Mueller's investigation into alleged collusion between the administration and Russia during the 2016 presidential election to an extent it would amount to obstruction of justice, a poll conducted by The Washington Post and ABC News found.
Just 35 percent of those who took part in the poll think that Trump has not tried to interfere with Mueller's investigation at all. The poll also found 63 percent of Americans support Mueller's investigation, with 52 percent saying they strongly support it.
Ahead of the crucial mid-term elections, the poll found more than 60 percent of Americans disprove of Trump's performance as president, compared to 36 percent who approve.
The poll of more than 1000 people was conducted between August 26 and August 29, the week after Trump's former lawyer Michael Cohen implicated Trump in a criminal conspiracy after confessing to paying two women—former Playboy model Karen McDougal and adult film star Stormy Daniels, real name Stephanie Clifford—to ensure they keep quiet about their alleged affair with Trump during the 2016 presidential election.
On the same day, Trump's former campaign manager Paul Manafort was found guilty of eight counts of tax and bank fraud charges brought forward by Mueller's investigation.
The Washington Post noted that the last Post-ABC poll, which had Trump's disapproval rating at 56 percent, was conducted four months ago in April and therefore difficult to attribute the rise in the ratings to any specific event.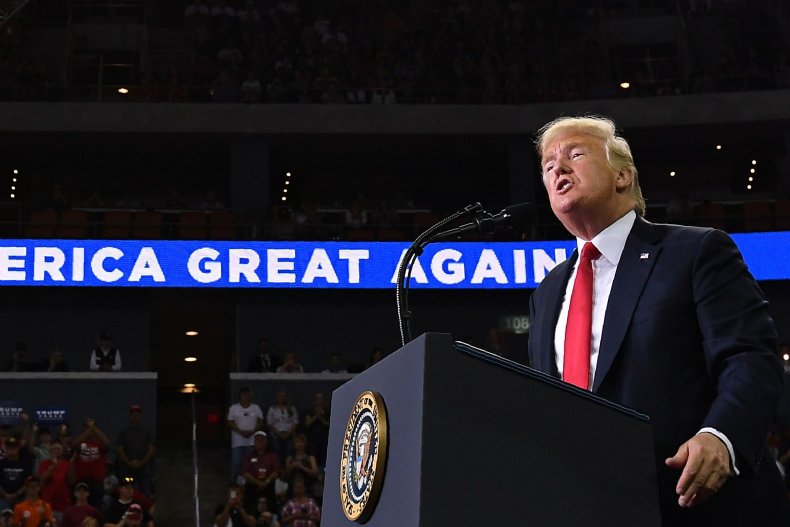 Results of the poll found that 61 percent of Americans think that Trump committed a crime after Cohen admitted he made the payments "in coordination" withTrump during his guilty plea. A total of 67 percent also believe the criminal case against Manafort was justified.
Following rising speculation that Trump plans to fire Attorney General Jeff Sessions, the poll suggests a majority of Americans (67 percent) do not believe he should fire him, compared to 19 percent saying he should and 17 percent who said they don't have an opinion either way.
In recent days, Trump has hyped up his economic record to show his presidency is a success.
"Economy Consumer Confidence Index, just out, is the HIGHEST IN 18 YEARS! Also, GDP revised upward to 4.2 from 4.1. Our country is doing great!," he tweeted on August 29.
"The news from the Financial Markets is even better than anticipated," Trump added the following day. "For all of you that have made a fortune in the markets, or seen your 401k's rise beyond your wildest expectations, more good news is coming!"
According to the poll, more Americans do believe Trump is performing well when it comes to the country's economy compared to his overall popularity, with 45 percent of Americans approving his handling and 47 percent disapproving.