Evaluating a president's time in office often requires a rearview mirror. While history has yet to weigh in on President Donald Trump's time in office, Americans don't see President Donald Trump receiving positive remarks down the road.
After a contentious 10 weeks rife with claims of election fraud, denial of the results and comments that he'd have a second term, Trump has entered his final days in office. Set to leave the White House on Wednesday, Trump's tenure in office will include a riot at the Capitol as Congress certified President-elect Joe Biden's win, followed by a historic second impeachment.
A Suffolk University/USA Today poll found 58 percent of the 1,000 people polled thought history would assess Trump as a "failed president." About 35 percent of people thought he would be reviewed as "fair" or better, including 15 percent that thought history would view him as a "great president."
Democrats were more likely than Republicans to foresee Trump being a "failed president," at 90 percent compared to 16 percent. However, Republicans weren't overwhelmingly confident that he'd be a "great" president, either. Although a plurality, only 36 percent of Republicans polled thought he'd be a "great" president and 20 percent foresaw him being considered a "good president."
Bringing down Trump's legacy is the riot that took place at the Capitol on January 6. The president addressed his supporters at a rally in Washington, D.C., that morning, encouraging them to go to the Capitol to "cheer on" the "brave" senators who were challenging the results of the election and to try to give the "weak ones" the "pride and boldness" they need to "take back our country."
Shortly after Trump's speech, the Senate and the House went into a sudden recess because of security concerns, temporarily pausing the debate over Arizona's electoral votes. The mob at the Capitol breached security and broke windows to enter the building, with some making their way to legislators' offices and the Senate and House floors.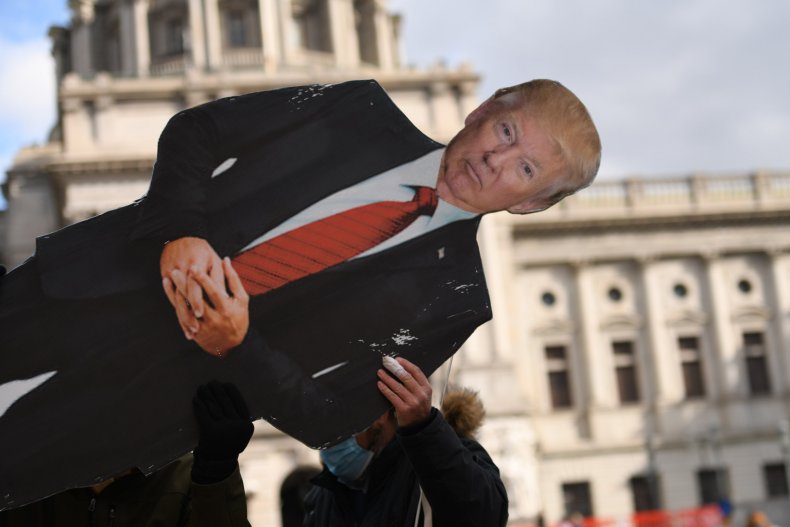 Trump was criticized for inciting the mob and failing to condemn it in harsh enough terms as it was underway. Voters polled in the USA Today survey were split down party lines as to whether Trump bore blame for the riot.
Only 35 percent of Republicans put at least some blame on Trump for the riot, but they broke with the rioters, themselves. Nearly an equal number of Republicans thought the rioters were either "criminals" or "had a point" but "went too far." Only two percent thought their actions were appropriate.
Senator Lindsey Graham, a staunch ally of the president, supported Trump's time in office as an era filled with "tremendous" accomplishments for the country and has "no regrets" about helping him make the country safer and more prosperous. However, the success Trump had with regard to getting out of the Iran Nuclear Deal and working to destroy the caliphate will be marred with the riot, according to Graham.
"It breaks my heart that my friend, a president of consequence would allow yesterday to happen and it will be a major part of his presidency. It was a self-inflicted wound. It was going too far," Graham said on January 7.
A week after the riot, the House voted to impeach Trump for "inciting an insurrection." It made Trump the only president in history to be impeached twice. And unlike his 2019 impeachment when votes broke along party lines, this time around, 10 Republicans voted in favor of the impeachment, about 4 percent of the GOP in the House.
A similar percentage of Republicans in the USA Today poll supported Trump's impeachment as a necessary means to "preserve democracy." The majority of Republicans thought it was a distraction from other legislative priorities or a waste of time since Trump was leaving office.
It's unlikely that Trump will resign or be removed from office by way of a Senate vote before Biden's inauguration. But, he will be finishing out his term with the lowest job approval rating of his presidency.