Majority of Americans Think Immigrants Should Adopt the Established U.S. Culture: Poll
More Americans believe immigrants moving to the states should adapt to an established U.S. culture rather than a blend of cultures and values, according to a new poll.
The Associated Press-NORC Center for Public Affairs Research poll, released on Monday, showed that a slight majority—51 percent—of respondents think immigrants arriving in America should assume an existing U.S. culture and values, while 46 percent believe the country should be made of a blend of different cultures.
With identity playing a central role under President Donald Trump's presidency, it is unsurprising that the poll showed a clear partisan divide when it came to matters relating to immigration. Republicans are more inclined to want immigrants to adopt a shared American culture than Democrats, with 77 percent of GOP respondents supporting the statement, compared to 32 percent of Democrats.
However, more Democrats believe that recent immigrants have already adopted America's shared values, with 57 percent among the group agreeing with the statement, compared to just 28 percent of Republicans.
Roughly three-quarters of Democrats believe diversity makes America stronger, and about half of Republicans respondents agreed.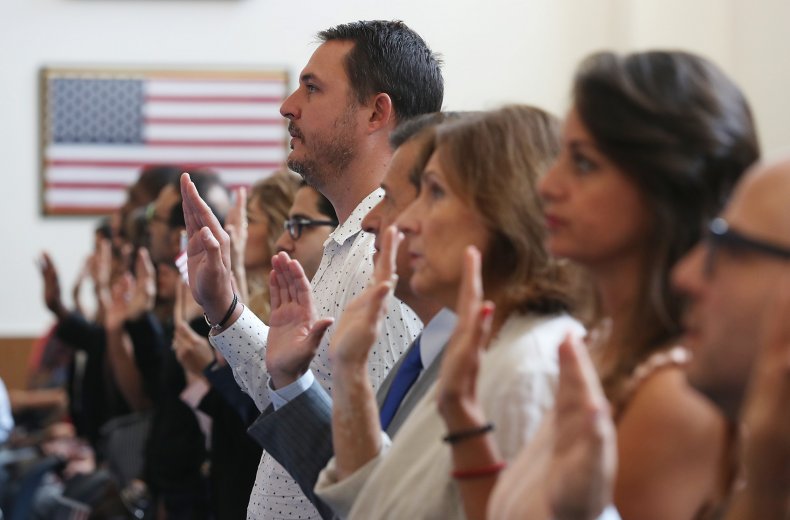 Democratic voter Jerry Perry, 63, of Louisiana told the AP that diversity "makes the country a lot richer as it brings together all the tribes from all over the world." Perry also said that he is the great-grandson of slaves and a life-long Democrat.
"No one should be afraid of that. God needed to have a place where every nation could be represented," Perry continued.
Fernando Rivera, 48, a Republican who staunchly supports Trump's severe immigration policies, believes that immigrants are now being treated better than ever and says some could become a burden on the country's safety net programs.
"I've always felt I was at the bottom of the totem pole, and then here came some more people to knock us out," Rivera said. "Sometimes it feels very crowded here."
According to the poll, 40 percent of Americans approve of Trump's handling of immigration issues and 59 percent disapprove. "He has not shown an inkling of mercy" toward immigrants, said Perry, who was among those that disapproved of the president's immigration policies.
Despite their differences, Americans largely agreed on some key aspects of the country's identity. Roughly three quarters of Democrats and Republicans expressed that a fair judicial system is important for the country, as well as the "ability of people living here to get good jobs and achieve the American dream" and liberties contained within the U.S. Constitution.
The AP-NORC poll surveyed 1,286 adults between September 20-23. The sample was taken from NORC's AmeriSpeak Panel. The margin of error is plus or minus 3.8 percentage points.