Majority of Americans Think U.S. Should Have 2-Week Nationwide Lockdown as COVID Pandemic Surges: Poll
A majority of Americans support the U.S. having a two-week nationwide lockdown in an effort to curb the spread of the new coronavirus, as new infections and deaths continue to rise across the country, new polling has shown.
The latest poll from NPR/Ipsos shows that 59 percent of Americans would back the government issuing a two-week mandatory nationwide stay-at-home order to battle the pandemic. Only a little more than a third (36 percent) of respondents said they would oppose such a decision.
An even greater majority (62 percent) of Americans support a national strategy for combating the virus, something the administration of President Donald Trump has resisted. Trump has instead argued that state and local leaders should handle their individual responses to the pandemic, while the federal government assists with guidance and resources.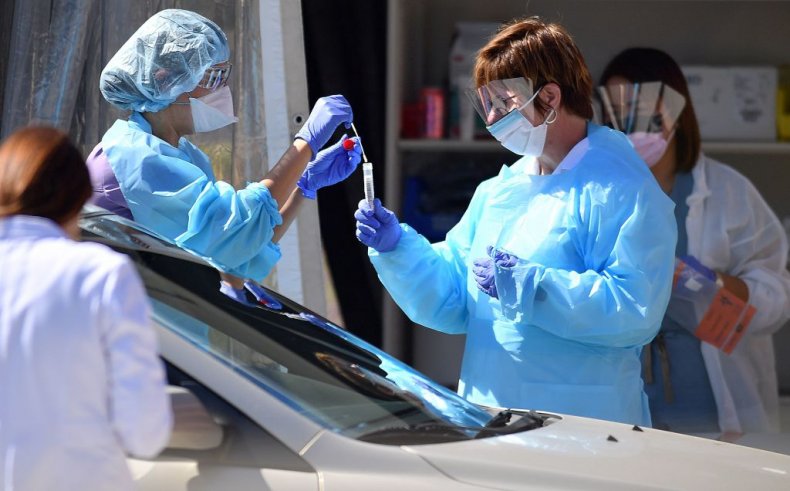 Meanwhile, the vast majority of Americans (85 percent) believe that the government should expand funding for COVID-19 testing to make it free of charge. And 83 percent of respondents said there should be federal funding to produce personal protective equipment and testing supplies, as well as federal funding to make a vaccine available to all Americans, if and when one is created.
About two-thirds of Americans believe that the U.S. is handling the pandemic worse than other countries. The U.S. continues to have the highest number of infections and deaths of any country in the world. As of Tuesday morning, the U.S. had reported more than 4.7 million infections and nearly 156,000 deaths, according to the New York Times tracker.
While most developed peer countries such as Canada, South Korea, Taiwan, Japan and nations within the European Union have largely curbed the spread of new infections, the U.S. continues to add an average of more than 60,000 new infections per day. The seven-day average of new daily deaths remains above 1,000.
"We're doing absolutely worse [than other countries]," Laura Braslow, a Republican in Pennsylvania told NPR.
The survey results suggest that the American public is starkly at odds with President Donald Trump when it comes to their views on the pandemic. In Monday remarks, Trump insisted: "Lockdowns do not prevent infection in the future." He also claimed that the U.S. is doing "as well as any nation" at handling the virus under his leadership.
The results of the NPR/Ipsos poll showed a greater segment of the population viewing the U.S. response negatively compared with other nations than a previous survey conducted by HuffPost/YouGov. In that poll, 46 percent of respondents said the U.S. was responding to the pandemic worse than other countries, while 24 percent said it was handling the crisis as well as other nations. Only 19 percent said the U.S. was doing a better job.