Majority of Americans Want Biden Handling Coronavirus Response and the Economy, Not Trump: Poll
Most Americans would rather see former Vice President Joe Biden in charge of both the U.S. coronavirus response and the economy than current President Donald Trump, according to data from a new NPR/PBS NewsHour/Marist poll.
However, while Biden may have the upper hand in polling in those areas, the results fall strongly along party lines. Out of those surveyed, 55 percent of those surveyed chose Biden over Trump to handle the coronavirus pandemic. While 40 percent of those polled said they would rather see Trump handling coronavirus issues in the U.S., 87 percent of those who supported Trump in that arena identified themselves as Republicans. Likewise, 87 percent of Biden's supporters labeled themselves as Democrats.
Although Trump has taken credit for creating a strong U.S. economy before the essential lockdown of the country due to the coronavirus, only 44 percent of those polled say they would rather see Trump handle the economy. A little over half would rather see Biden take the economic reins, garnering 51 percent of the poll. Those who were unsure about which candidate they would choose numbered 6 percent.
Democrats made up the majority of Biden's support for handling the economy with 86 percent throwing the presumptive Democratic nominee their support. However, 92 percent of the Republicans polled wanted Trump to handle the economy with only 7 percent of Republican voters leaning toward Biden.
Newsweek reached out to both the Biden and Trump campaigns for comment.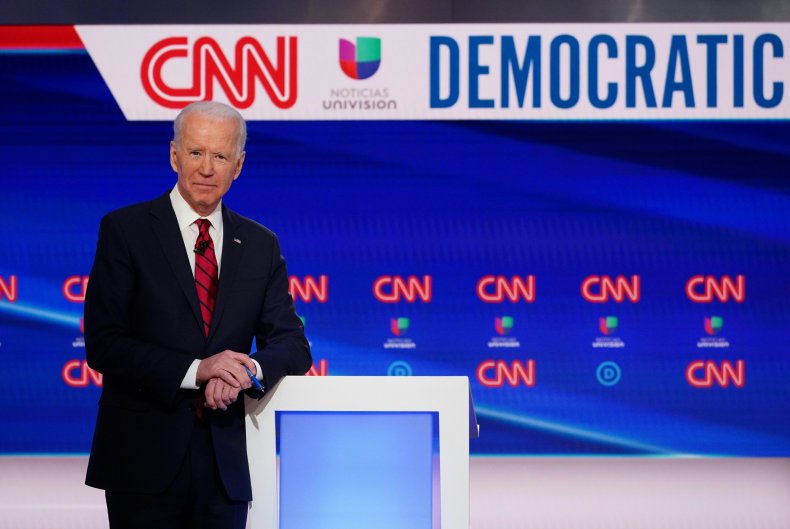 Overall, 48 percent of Americans disapproved of how Trump is handling the economy. That represents a 3 percent increase of March's poll when 45 percent of those polled indicated they did not approve.
Trump's handling of the coronavirus pandemic garnered a larger jump in the disapproval rating. While 49 percent of those surveyed voiced their disapproval in the March poll, 55 percent now say they do not approve of Trump's response to the virus, a 6 percent increase.
Biden suggested during a Monday interview with CBS Miami that he would take a more global approach to economic matters.
"I would get much more engaged in the world," Biden said. "We can't step back. If in fact, for example we solve the problem in the United States of America and you don't solve it in other parts of the world, you know what's going to happen?"
"You're going to have travel bans," Biden explained. "You're going to not be able to do, have economic intercourse around the world. When it's America first, it's America alone."
Although stay-at-home orders issued by state governors have impacted businesses, forcing many to temporarily close or shut down completely, Trump has envisioned a rapid rebound for the U.S. economy.
"I think the fourth quarter is going to be really strong," Trump said Tuesday during a meeting with Florida Governor Ron DeSantis, "and I think next year is going to be a tremendous year. That's what's building. Third quarter is a transition quarter. Second quarter is what it is."
Business closures forced the U.S. gross domestic product to fall at an annual rate of 4.8 percent for the first quarter of 2020, which represents the first decrease in the GDP since 2014.