Majority of Americans Want Biden to Lead Coronavirus Response, But Trump More Trusted With the Economy: Poll
A majority of Americans want presumptive Democratic nominee former Vice President Joe Biden to handle the coronavirus response and health care but President Donald Trump is still more trusted with the economy, according to a new nationwide poll.
The latest CNN/SSRS poll, released Wednesday found that 51 percent of respondents said they trust Biden to handle the domestic coronavirus outbreak, while 45 percent pointed to Trump. When it came to health care, the margin was even wider, with 54 percent saying they'd rather Biden lead America's health care system, compared to 42 percent who want Trump.
However, more Americans trust Trump to handle the U.S. economy, with 54 percent of support for the president and 42 percent for Biden.
Biden and Trump will face off for the White House on November 3, in the 2020 U.S. presidential election. With less than six months before Election Day, Biden has been leading the president in most recent national polls and the latest from CNN is no different. The poll says 51 percent of registered voters indicated support for Biden for the presidency, while 46 percent would prefer Trump to serve another term.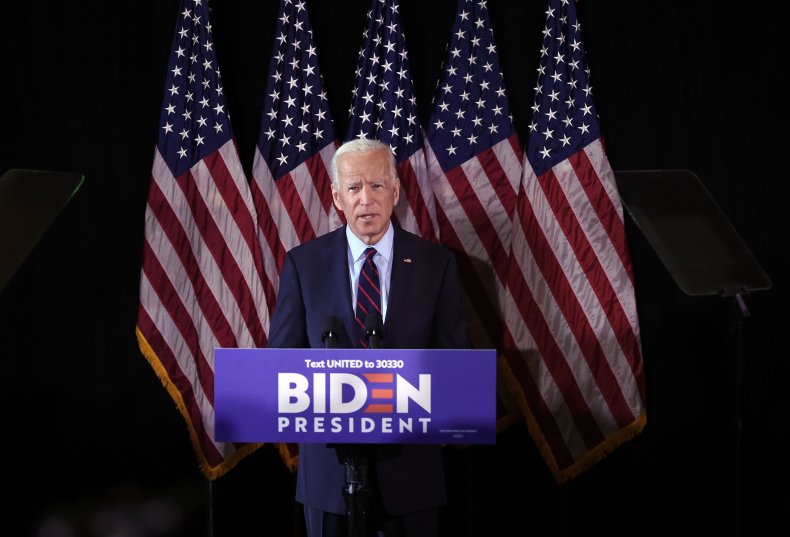 The president, however, leads in 15 battleground states, with 52 percent favoring Trump, compared to 45 percent of support for Biden. The poll sampled 583 voters across Arizona, Colorado, Florida, Georgia, Maine, Michigan, Minnesota, Nevada, New Hampshire, New Mexico, North Carolina, Ohio, Pennsylvania, Virginia and Wisconsin—states that were determined by eight or less points in the 2016 presidential election.
Despite Trump's frequent attacks on Biden's stamina and sharpness—the president often refers to the former vice president as "Sleepy Joe"—voters were divided on whether the Republican or Democratic candidate has the stamina and sharpness to serve in the White House; 49 percent say Trump does and 46 percent say it's Biden.
In a statement to Newsweek, Tim Murtaugh, Trump campaign's director of communications, claimed that "public polling always understates President Trump's standing." He also noted that their internal data shows that "Americans can see the President has been leading the nation through this crisis and into reopening the economy."
Newsweek reached out to Biden's campaign for comment. This story will be updated with any response.
In recent months, Biden has repeatedly criticized Trump's allegedly inadequate and slow handling of the coronavirus outbreak. In a Tuesday interview on Good Morning America, Biden refuted the president's claim that anyone can get tested for coronavirus if they want to and called him "incompetent."
"The truth is the truth, George. Anyone can't get a test around the country... He knew about this crisis all the way back in January and February. He's been incompetent the way he responded," the former vice president said.
The CNN poll, conducted by SSRS between May 7 to 10, sampled 1,112 random adults nationwide by phone. Of those, 1,001 were registered voters and 583 voters were from battleground states. The margin of sampling error is plus or minus 3.7 percentage points.