Majority Back Delaying Supreme Court Pick Until After Election: Poll
A majority of U.S. voters believe the role of filling the Supreme Court vacancy should be reserved for whoever wins in November, according to a poll.
Half of registered voters (50 percent) expressed support for delaying the process until after the election, the Politico/Morning Consult survey found.
Around a third (37 percent) of those polled said Donald Trump should be free to press ahead with nominating a replacement for Ruth Bader Ginsburg.
Among Republicans, 71 percent said Trump should nominate the next justice while 79 percent of Democrats said it should be left for the election winner to decide.
Responses from "independent" voters showed 31 percent backed Trump to pick the newest justice, while 49 percent said they thought it should be left for the winner of the election.
The poll comes amid an intense war of words between Republicans and Democrats over who should replace Ginsburg, who died from pancreatic cancer on Friday.
The Politico/Morning Consult poll suggests the outcome of the Supreme Court nomination process could become a decisive factor in the election—especially if Trump is unable to appoint a justice before November 3 and voters are left to cast their ballot in part based on who they want to choose Ginsburg's successor.
Some 60 percent of Democratic voters said the Supreme Court was "very important" to their vote, slightly ahead of both Republican voters (54 percent) and independents (51 percent).
The findings are broadly in line with a Reuters/Ipsos poll conducted the day after Ginsburg's death on Friday which found that a majority of Americans (62 percent) believe the vacancy should be filled by the winner of the election. Less than a quarter disagreed.
Trump, who has boasted about his role in appointing more than 200 judges to the federal bench during campaign events, said he plans to announce his decision on Friday or Saturday.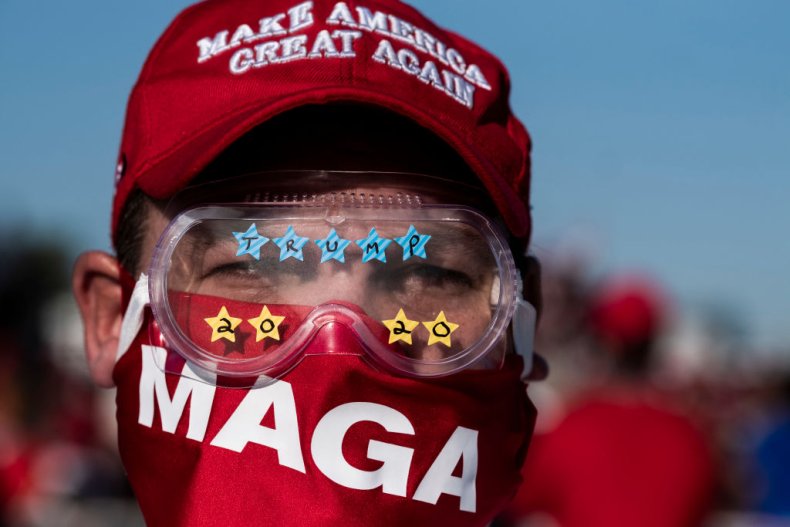 "Some presidents never get any—they last a long time. We've had three. It's blowing their minds," Trump said.
The president nominated Neil Gorsuch in 2017 after Mitch McConnell, the Senate majority leader, refused to consider President Barack Obama's choice for the high court in the months leading up to the 2016 election.
McConnell blocked efforts to advance Merrick Garland in the confirmation process—after Supreme Court Justice Antonin Scalia died—because he said it was an election year and voters should be left to decide at the polls.
Brett Kavanaugh was picked by Trump a year later—a hugely controversial appointment who was nonetheless confirmed despite sexual assault accusations, which he denied.
The Politico/Morning Consult poll, conducted between September 18-20, surveyed 1,989 registered voters. The margin of error is plus/minus 2 percentage points.