A majority of African Americans said they would consider voting for Senator Bernie Sanders of Vermont in the presidential election, according to the results of a new poll from Ipsos and VICE News.
The Vice News/Ipsos Poll found that 56 percent of African American voters said that they would possibly vote for Sanders, a statistical tie with the 54 percent who said they might vote for former Vice President Joe Biden, who has been topping the polls for the Democratic Party's presidential nomination. The poll was conducted between January 8 and January 10 among 2,013 U.S. adults
The poll also found that Sanders had an even wider lead over Biden among Hispanic Americans. When asked whom they would consider voting for in the election, 47 percent of Hispanic respondents said they might back Sanders, while 37 percent said the same for Biden.
The results, according to Vice, indicate Sanders may be able to secure support from black voters if he wins the Democratic nomination.
"Despite frequently being described as a 'socialist' or 'too liberal', Bernie Sanders has as many, if not more, minority Americans considering voting for him as any other candidate," said Ipsos Public Affairs Vice President Chris Jackson in a statement.
Newsweek contacted the Sanders campaign for comments on the poll's results but did not receive a reply before publication.
The poll showed that only 23 percent of African American respondents said they would not consider voting for Sanders at all, while slightly more (24 percent) said they would not consider voting for Biden.
Other recent polls indicate that Biden has a significant lead over Sanders when it comes to African American voters—as has been the case for months. In a poll conducted by The Washington Post and Ipsos that was released on Saturday, 20 percent of non-Hispanic black Democrats said they would vote for Sanders if the Democratic primary were held today, while more than twice as many—48 percent—said they would vote for Biden.
Both Sanders and Biden have made efforts to influence more African American support. As Politico reported, many black voters believe that Biden is the most well-positioned Democratic candidate to defeat Biden in the general election. However, Sanders has expanded efforts to reach out to minority groups because he did not win as much support from them in his 2016 campaign to defeat Hillary Clinton, according to Vice.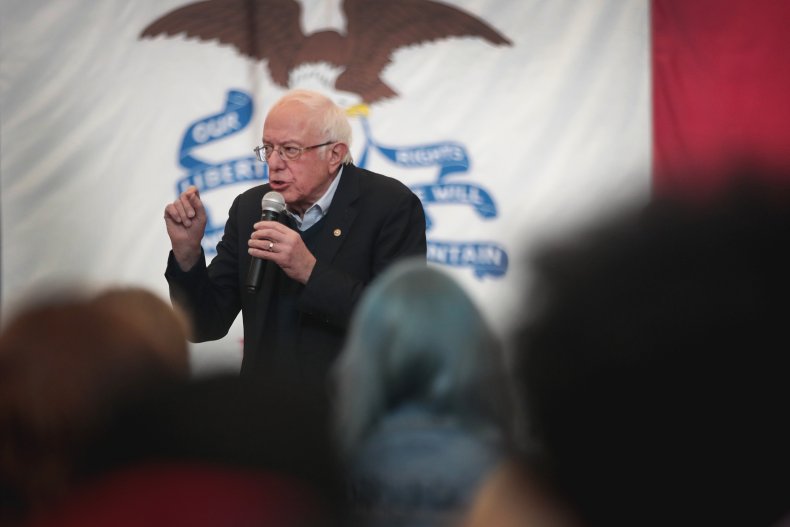 Incumbent President Donald Trump was the least popular among black respondents. Only 9 percent of black respondents said they would consider voting for him. A recent Washington Post-Ipsos poll found that Trump "wins just 4 or 5 percent of black voters when tested against eight Democratic candidates individually."
The president's reelection campaign has taken steps to attempt to win increased support among black voters—including, as Politico reported, an initiative called "Black Voices" that puts advertisements in black newspapers and on black-run radio stations.
In contrast, 25 percent of Hispanic respondents said they would consider lending their support to Trump in his bid for reelection to the presidency.
Voters in Iowa will be the first in the nation to decide who they want to receive the Democratic presidential nomination when that state holds its caucuses on February 3, 2020.
The credibility interval for the poll is 4 percentage points for white respondents, 4.7 percentage points for Hispanic respondents, 4.6 percentage points for African American respondents and 2.5 percentage points for all respondents, according to Vice.