A majority of businesses across America are now dealing with in-person customer visits, according to a new poll, as cases of the novel coronavirus continue to increase.
According to the poll, 51 percent of workers say their organization or employer is doing business with customers on-site, which is an increase of 12 points from a previous poll conducted in April.
The poll, which was conducted by Gallup, surveyed 3,526 U.S. adults from June 29 to July 12. The poll has a margin of error of plus or minus 3 percentage points.
The poll also found an increasing number of U.S. workers that say they are now working on-site. According to the poll, 39 percent of respondents say all or nearly all their fellow employees are working on site. In April, a poll also conducted by Gallup found only 28 percent saying the same.
In comparison, 29 percent of respondents said very few of their fellow employees are working on-site, 20 percent said some and 10 percent said none.
Another aspect that this poll discovered focuses on the different ways businesses across the country are imposing different requirements and restrictions in order to slow the spread of the novel virus, with symptom checks and personal protective equipment (PPE) becoming more common.
According to the poll, 68 percent of employees working at on-site companies say that their employer is conducting new and more frequent cleaning, while 51 percent say that their employer is enforcing the six-foot social distancing rule and also screening workers and customers for a fever and a cough.
The poll also found that 66 percent of respondents said that their employer is now providing employees with PPE, a large increase from a similar poll conducted in April where 46 percent of respondents said the same.
Additionally, the poll found that a majority of workers are following different practices to avoid catching the virus. The poll found that 65 percent say they are always frequently cleaning, while 58 percent say they are always following social distancing measures and wearing PPE.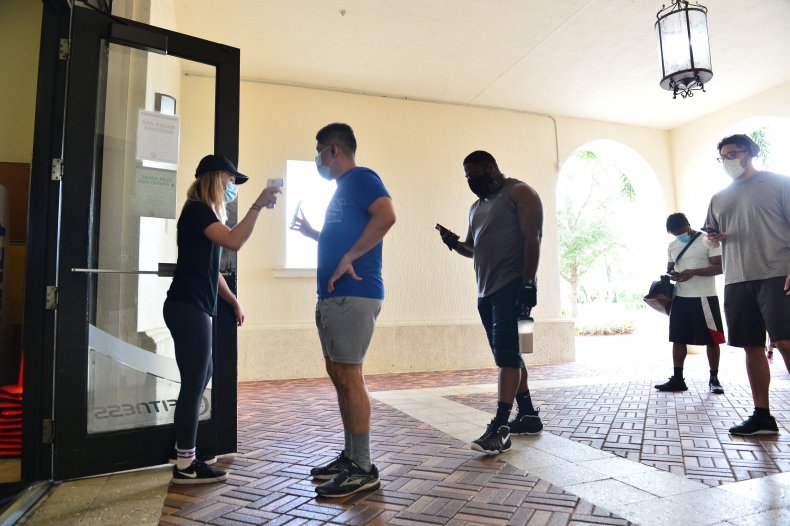 The poll's findings come as cases of the novel coronavirus continue to surge throughout the U.S. According to a tracker from Johns Hopkins University, there are currently over 3.8 million confirmed cases of the virus in the U.S. and at least 140,909 deaths.
The rise in cases in several states, such as Arizona, Arkansas and California, forced their respective governors to pause their phased reopening plans and impose additional restrictions to help slow the spread.
Newsweek reached out to the Department of Health and Human Services for comment but did not receive a response in time for publication.