Many Coronavirus ICU Patients Experience Delirium, Research Says
Many patients admitted to intensive care units (ICU) for health complications related to the new coronavirus have experienced hospital delirium, a condition that causes hallucinations, confusion and other cognition issues.
As The New York Times reported on Monday, hospital delirium was predominantly observed in older patients prior to the pandemic's onset, some of whom were already diagnosed with dementia. However, medical practitioners and researchers have noted the incidence of delirium is more widespread among COVID-19 patients, particularly those who require ICU treatment. The Times released its report as states across the U.S. report sharp increases in hospitalizations and ICU admissions related to the virus.
Dr. E. Wesley Ely, co-director of Vanderbilt University and the Nashville Veteran's Administration Hospital's Critical Illness, Brain Dysfunction and Survivorship Center, told the Times that previous research and policy recommendations related to hospital delirium were "erased" by the new coronavirus pandemic. The CIBS Center has launched multiple studies to better understand the ways in which critical COVID-19 patients are impacted by delirium. Similar to results of other studies, CIBS research suggests delirium puts patients at risk of developing long-term cognitive issues, depression and post-traumatic stress disorder.
One study by a group of medical researchers from Harvard and Indiana University, observed delirium in 73 percent of patients. This article is currently a preprint, meaning it has not been peer reviewed by a panel of experts and published in a scientific journal. As a result, its findings should be treated with caution.
Newsweek reached out the researchers and the CIBS Center for additional comments but did not hear back in time for publication.
In a statement shared to its website, the CIBS Center touches on a potential relationship between isolation and the onset of delirium. Hospitals across the world implemented visitor restriction policies near the start of the pandemic to limit transmission of the infection, especially among hospitalized individuals whose immune systems are more vulnerable.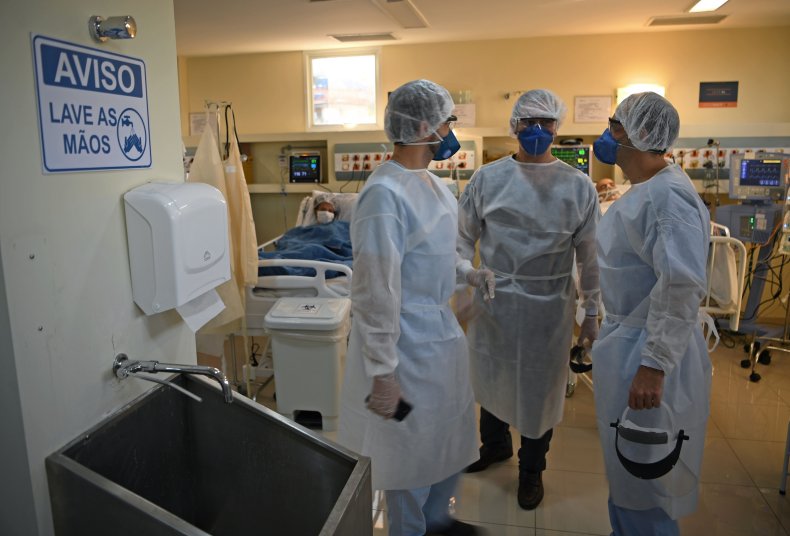 "The intense cough, ventilator dyssynchrony, and infectious potential reported in COVID-19 patients begets management with large quantities of sedatives, immobilization and social isolation," the CIBS Center wrote in a statement. "Thus, COVID-19 is a perfect storm yielding an immense burden of delirium (which drives subsequent dementia) and PICS-related cognitive and mental health disabilities, leading to a widespread emerging public health crisis."
PICS stands for post-intensive care syndrome, a group of physical, cognitive and psychiatric disorders that some patients develop after surviving critical illnesses that require ICU care. The National Center for Biotechnology Information released a report in 2017 with guidance for hospitals to prevent ICU patients from acquiring the syndrome. Its recommendations included limiting the amount of time patients are sedated and immobilized.
Correction 06/30 8:04 a.m. ET: The headline of this article has been corrected to say many patients suffered from delirium, not hallucinations.
The NEJM article referenced was a correspondence letter, not a study. The letter did not reference delirium, but was about neurological features of patients with severe COVID-19, some of which included symptoms of delirium. The reference to the NEJM has been removed from the article.
The study by researchers at Harvard and Indiana University is a preprint paper and the article has been updated to account for this.