Majority of Democratic Voters 'More Likely' to Vote for Bernie Sanders After Iowa Caucuses: New Poll
The majority of Democratic voters nationwide are "more likely" to vote for Vermont Senator Bernie Sanders in the aftermath of the Iowa caucuses, while significantly less said the same about former Indiana mayor Pete Buttigieg, according to new polling data.
A full 52 percent of respondents to the Morning Consult survey, which was released Thursday, said they were leaning more toward backing Sanders for the Democratic nomination following Iowa's Monday caucuses. Of those, 29 percent said they were "much more likely," while 23 percent said they were "somewhat more likely."
Despite performing poorly in Iowa, former Vice President Joe Biden came in second in the polling, with 48 percent saying they were more likely to vote for him. Buttigieg, who prematurely declared he was "victorious" in Iowa, saw significantly less enthusiasm, with just 38 percent saying they were more likely to back him. Of those respondents, only 14 percent said they were "much more likely" to vote for the former South Bend, Indiana, mayor.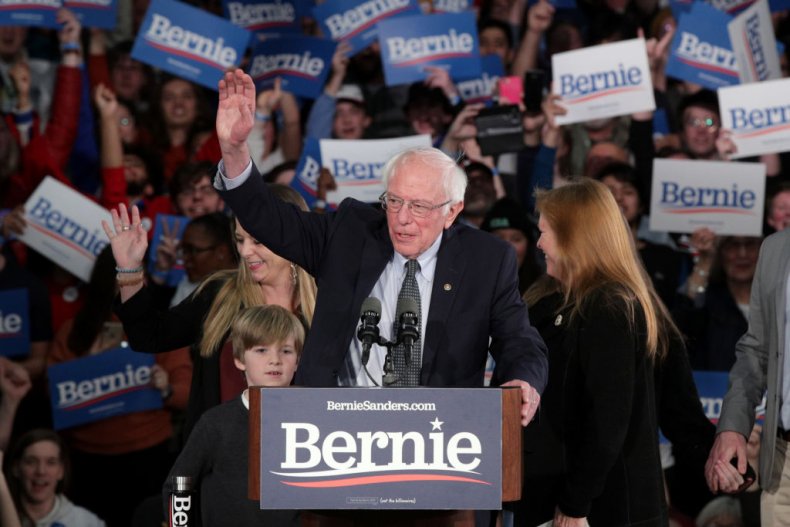 Meanwhile, 26 percent of respondents said they were "somewhat" or "much" less likely to vote for Sanders after Iowa, while 29 percent said the same of Biden and 28 percent said the same of Buttigieg.
The Morning Consult poll also showed that overall support for Sanders and Buttigieg had increased, 3 percent and 5 percent, respectively. Sanders came in first as the top choice of 25 percent of Democratic voters nationwide. Biden was close behind at 24 percent, a drop of 5 percent from before Iowa. Former New York City Mayor Michael Bloomberg came in third with just 15 percent, a decrease of 1 percent. Buttigieg was fourth at 12 percent, followed closely by Senator Elizabeth Warren of Massachusetts at 11 percent, a dip of 2 percent for her.
The Iowa caucus results have been a major fiasco for the Democratic Party. Problems with an app called Shadow, which was supposed to streamline the counting process, caused major delays. The Iowa Democratic Party eventually ditched the app, as it was causing errors and malfunctioning. In addition, it was too complicated for many precinct leaders to download, let alone use.
While the results from Iowa are generally released within a couple of hours after the statewide caucuses conclude, the full results were still not available early Thursday afternoon. Although 97 percent of precinct tallies have been released, numerous errors and inconsistencies have been widely reported.
"Enough is enough," Democratic National Committee chair Tom Perez tweeted in frustration on Thursday. "In light of the problems that have emerged in the implementation of the delegate selection plan and in order to assure public confidence in the results, I am calling on the Iowa Democratic Party to immediately begin a re-canvass."
The results that have been released show Sanders winning the state's popular vote by about 2,500. However, Buttigieg leads by just 0.1 percent in "state delegate equivalents," 26.2 percent compared with Sanders' 26.1 percent. Warren is in third with 18.2 percent of SDEs, and Biden finished a distant fourth at 15.8 percent.
Meanwhile, Sanders appears to be the strongest contender going into 2020's first primary, next Tuesday in New Hampshire. An aggregate of national polls by Real Clear Politics shows Sanders in the lead with 25.5 percent, followed by Biden in second place at 17.7 percent and Buttigieg third at 15.7 percent.