Majority of Democrats Do Not Believe Joe Biden Sexually Assaulted Tara Reade, But Most Independents and Republicans Do: Poll
A significant majority of Democrats do not believe their party's presumptive presidential nominee former Vice President Joe Biden sexually assaulted Tara Reade while she worked as a staffer in his Senate office. But the majority of independent and Republican voters believe the allegation, new polling has shown.
Overall, 55 percent of voters surveyed by the Harvard Center for American Political Studies (CAPS) and Harris believe Reade's allegation that Biden digitally penetrated her against her will in a Senate office building back in 1993. But 66 percent of Democratic voters said they did not believe Reade.
Among independents, 56 percent said they believed Reade's allegation against Biden. And a large majority of Republicans (78 percent) said they believed Biden had sexually assaulted the former staffer. Meanwhile, Biden was still the favored candidate to win in November, with 53 percent of voters backing the former vice president compared to 47 percent supporting President Donald Trump.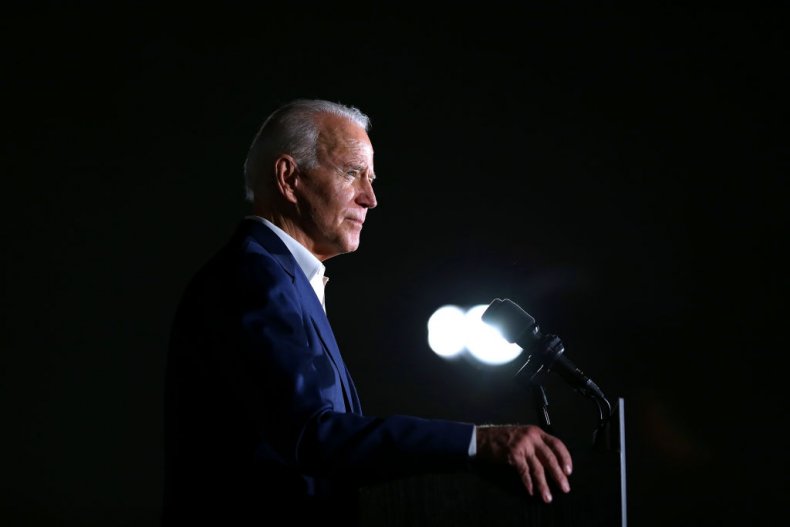 Newsweek has reached out to the Biden campaign for comment. Biden has flatly denied Reade's allegation, while maintaining that all women should have the right to have their claims heard and vetted.
"No, it is not true," Biden said during a May 1 interview with MSNBC. "I'm saying unequivocally it never, never happened."
Although Biden has faced accusations of unwanted touching and a lack of awareness about personal boundaries from multiple women, Reade is the only woman to have come forward with an allegation of sexual assault. Reade's brother, a friend and a former neighbor have all told journalists that she told them about the alleged incident in the early 90s, shortly after it would have occurred.
Reade's ex-husband said in a 1996 court filing that Reade had told him about sexual harassment she had faced while working for Biden. A former co-worker of Reade's from the early 1990s has also said she mentioned harassment she'd faced during her time working for the then-Delaware senator.
But Democratic lawmakers, who have been seen to champion the "Me Too" movement, have largely dismissed the claims against Biden. Several prominent female Democratic lawmakers, some of whom are speculated to be potential running mates for Biden, have publicly voiced their support for the former vice president, while maintaining that women should be heard and have their claims vetted.
Some Republicans and independents, as well as some Democrats, have argued that the Democratic Party is hypocritical for previously pushing the idea that all women should be believed. At the same time, Trump has faced allegations of sexual assault and rape from at least 18 different women. Some Democratic voters have stated publicly that they plan to support Biden, whether or not they believe Reade's allegations. They argue that Biden is the better candidate, even if he sexually assaulted the former staffer.
At the same time, a sizable portion of Democrats appear concerned about the allegation and believe Biden should step aside. Polling conducted by Morning Consult from May 2 to 3, right after Biden publicly denied the allegation on MSNBC, showed that about a quarter (26 percent) of Democrats believed the former vice president should step aside due to Reade's claim.
Among Democratic women, 28 percent said Biden should be replaced as their party's presidential nominee.