Majority Disapprove of Trump Promoting Hydroxychloroquine as Top Admin Official Breaks With President on Antimalarial Drug
A majority of Americans say they disapprove President Donald Trump promoting the use of hydroxychloroquine as a treatment for the new coronavirus, shortly after a top Trump administration official broke with the president on the use of the anti-malaria drug, according to a new poll.
According to the poll, 54 percent of Americans say they disapprove Trump promoting the use of the drug, with 43 percent saying they strongly disapprove and 11 percent saying they somewhat disapprove. In comparison, the poll found that 26 percent said they approved Trump promoting the drug, with 14 percent saying they strongly approve and 12 percent saying they somewhat approve.
The poll, which was conducted by Yahoo News/YouGov, surveyed 1,506 U.S. adults from July 28 to July 30 and has a margin of error of plus or minus 3.3 percentage points.
The poll's findings come shortly after Assistant Secretary for Health at the Department of Health and Human Services Admiral Brett Giroir, spoke out against hydroxychloroquine.
"From a public health standpoint, at first, hydroxychloroquine looked very promising. There were not the definitive studies. At this point in time, there's been five randomized control, placebo-controlled trials that do not show any benefit to hydroxychloroquine. So at this point in time, we don't recommend that as a treatment," Giroir, a medical doctor, told NBC News' Meet the Press.
"Right now, hydroxychloroquine, I can't recommend that," Giroir added during his interview.
Prior to Giroir's remarks, Trump told reporters that he was "a believer in hydroxy."
"I happen to be a believer in hydroxy. I used it. I had no problem. I happen to be a believer. Many, many people agree with me," Trump said during a recent press conference.
Trump also recently posted a video on Twitter of a doctor praising the drug as a treatment for the new coronavirus, which causes the respiratory disease COVID-19. The video was removed from several social media platforms, and the poll found that 47 percent of respondents approved of this removal, with 33 percent saying they strongly approved and 14 percent saying somewhat.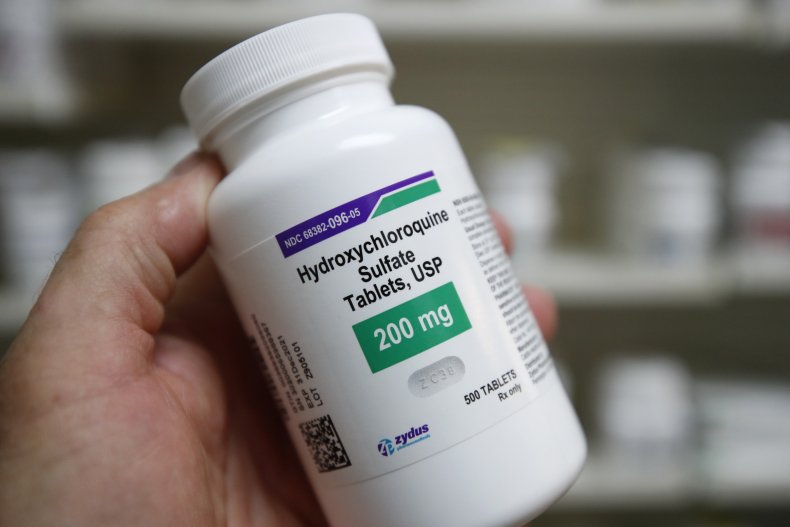 Additionally, the poll found that a majority of Americans, 52 percent, say they don't think that hydroxychloroquine is a cure for COVID-19. Seventeen percent said they do believe it is a cure, and 31 percent said they were not sure.
The poll also found that more Americans plan on voting for presumptive Democratic nominee Joe Biden, than those who plan to vote for Trump. According to the poll, 49 percent said they plan on voting for Biden, while 40 percent said Trump. Among the remaining percentages, 2 percent said other, 8 percent said they were undecided and 1 percent said they won't vote.