A majority of Florida voters don't want Governor Ron DeSantis to run for president in 2024, according to a new poll.
The Quinnipiac University survey released Wednesday found 59 percent of respondents would not like to see the Republican governor run for the White House, compared with 35 percent who would like to see him mount a campaign.
DeSantis had far more support among Republicans, 67 percent of whom said they want him to run for commander-in-chief. But more than 90 percent of Democrats and over 60 percent of independent voters said they do not want to see him launch a bid for the presidency.
The governor is up for re-election next year, and the poll found that voters are more supportive of his campaign. Slightly more voters, 48 percent to 45 percent, said he deserves another term.
"Do Florida voters want to send DeSantis back to Tallahassee? It's a tossup," Tim Malloy, the university's polling analyst, said in a statement. "But 1600 Pennsylvania Avenue is, for now, just not in the cards."
DeSantis has been praised by conservatives for his handling of the COVID-19 pandemic. The governor lifted coronavirus restrictions in the Sunshine State before many other states, and has become a leading opponent to vaccine and mask mandates.
But as COVID-19 cases continue to surge in Florida, the Quinnipiac poll found more than half of all voters—51 percent—disapprove of DeSantis's handling of the state's pandemic response.
Last week, the state was averaging roughly 25,000 new cases every day and hospitalizations reached a record number.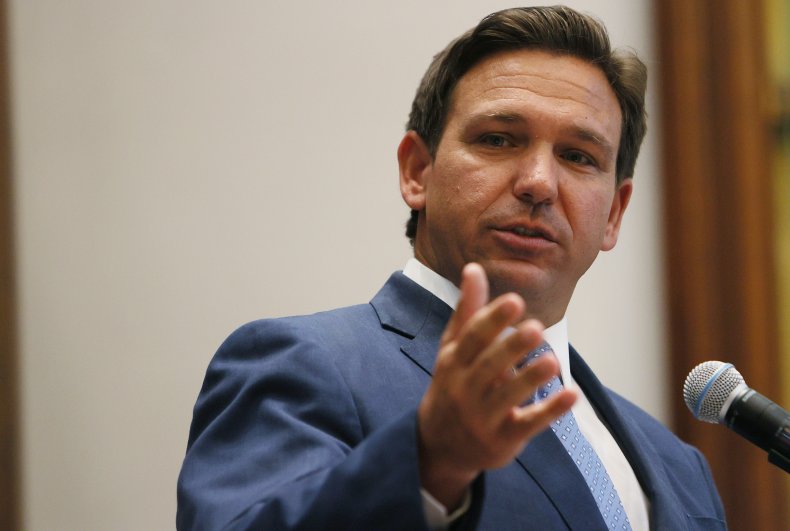 DeSantis is also underwater when it comes to handling public schools. Florida voters gave the governor just a 44 percent approval rate on the issue, while 51 percent said they disapproved of DeSantis' approach.
In late July, DeSantis signed an executive order making face masks optional across the state in schools and leaving it up to parents. He's since repeatedly vowed to protect "parental rights" as the school year kicks off.
State officials are also threatening to withhold funding for districts that impose requirements that students wear masks and employees get vaccinated or submit to weekly testing.
But at least 10 districts are defying the governor's orders, including districts in Florida's biggest cities: Jacksonville, Miami, Orlando, Palm Beach, Tampa, Tallahassee and Sarasota.
More than half of Florida adults (54 percent) said they believe schools should be allowed to mandate masks, instead of allowing parents to decide if their child should wear a mask, according to another poll.
The Quinnipiac University survey polled 889 self-identified registered voters in Florida between August 17 and August 21. The survey has a margin of error of plus or minus 3.3 percentage points.