Donald Trump in 2020 Trouble? Majority of Florida Voters Say They Definitely Wouldn't Vote for Him in Poll
President Donald Trump may face trouble in Florida during his re-election bid, a state he just barely won over in 2016, as a majority of voters now say that they will not support him again in 2020.
According to a new Quinnipiac University Poll, 51 percent of Floridians say they "definitely won't" be voting for Trump again if he is the Republican Party's nominee in the 2020 election. Another 31 percent say they "definitely would" cast a ballot for the president and 14 percent say they would consider voting for Trump.
Overall, only 40 percent of Florida voters had a favorable opinion of President Trump, while a majority did not.
In 2016, Trump just barely edged out Hillary Clinton for the Sunshine State's 29 electoral votes. He ended up with 48.6 percent of the ballot, with Clinton trailing by about 120,000 votes. In 2012, the state went to Barack Obama by less than one percentage point.
As the Democratic primary field continues to expand, with Texas's Beto O'Rourke being the latest candidate to throw his hat into the ring for the party's nomination, Trump has remained confident that he will be elected to a second term.
"We're going to do it again in 2020, and the numbers, I think, are going to be even bigger," Trump told the crowd during his two-hour CPAC speech earlier this month.
But several reports claim that the president's campaign advisers are worried about his waning popularity among female and suburban voters. The Washington Post reported last week that advisers are particularly nervous about Trump's lack of favor among the two voting blocs in Pennsylvania, the Upper Midwest and Florida.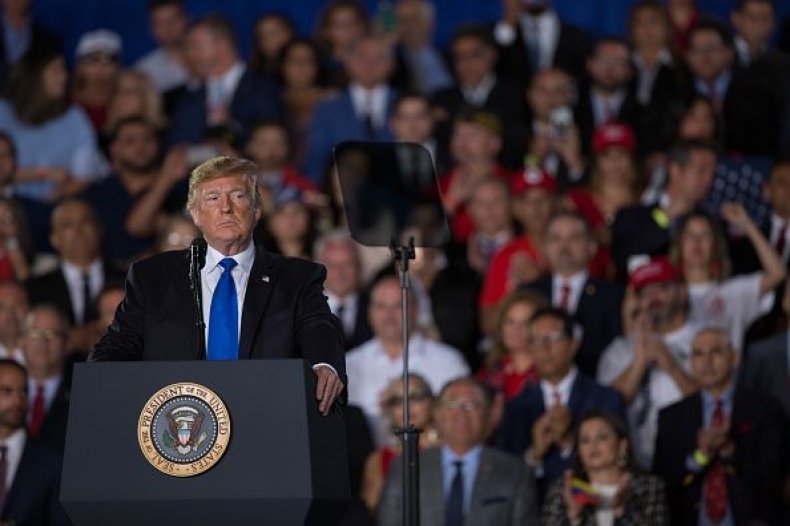 Quinnipiac's survey shows that Trump is already viewed unfavorably among women voters in Florida. Just 26 percent said that they would definitely vote for him in 2020, while 57 percent said they would definitely not vote for him.
Meanwhile, the survey showed promise for some Democratic candidates. Joe Biden, who has not yet announced his candidacy, is already polling at a 49 percent favorability rating. Only 35 percent of voters had an unfavorable view of the former vice president.
Bernie Sanders and Kamala Harris are the next most popular Democrats behind Biden, though neither candidate has broken the 40 percent mark in terms of favorability. (Sanders is at 37 percent and Harris at 23 percent.)
But Trump's approach to 2020 Democratic candidates, so far, has been to attack them as "full-blown" socialists. This is despite the fact that none of the candidates in the running for the party's nomination identify as such.
"All of us are here today because we know that the future does not belong to those who believe in socialism," Trump said during his freewheeling CPAC speech, adding that the "future belongs to those who believe in freedom.... America will never be a socialist country."