A Majority of Independents Believe Trump Should Be Impeached: Poll
A majority of independent voters who do not lean Republican or Democrat think that President Donald Trump should be impeached, according to a new poll.
An NBC News/SurveyMonkey survey released Friday showed that 53 percent of independent voters supported impeaching Trump while 44 percent said he shouldn't be impeached.
Among the voters polled who identified as independent, an overwhelming 96 percent disapproved of how Trump is doing his job in the White House and just 3 percent approved. But job disapproval doesn't necessarily correlate to support for removing Trump from office for independent voters. Nearly a quarter of the independents who don't think Trump should be impeached still don't like how he's handled being president.
When it comes to Republicans and Democrats, however, there's a strong connection between support for him and his impeachment that falls along party lines. Ninety-five percent of Republicans who don't think the president should be impeached approve of him. The same goes for Democrats—91 percent of liberal voters who favor impeachment disapprove of how Trump's performed in the White House.
Overall, the survey found that the American public is evenly split when it comes to impeachment. Forty-nine percent of voters think Trump should be impeached and removed from office while 49 percent are against the idea.
The NBC News/SurveyMonkey survey polled 18,101 voters from across the country from Oct. 8 to Oct. 22 and has a margin of error of 1.1 percentage points.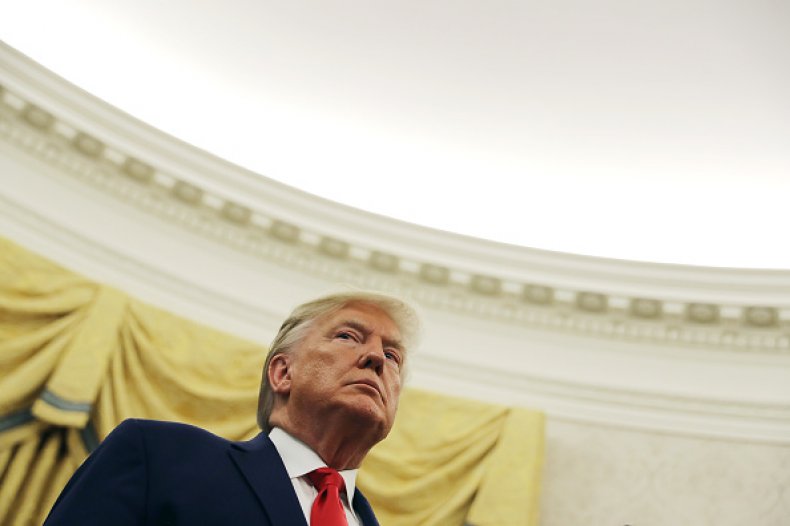 House Democrats have been moving full steam ahead with their impeachment investigation since launching the inquiry at the end of September. The inquiry began amid reports that Trump tried to pressure a Ukrainian President Volodymyr Zelensky to investigate Biden and his son Hunter.
In the month since the inquiry started, lawmakers have subpoenaed several Trump officials for documents relating to the Ukraine controversy. Vice President Mike Pence, Defense Secretary Mark Esper, Energy Secretary Rick Perry and acting White House Chief of Staff Mick Mulvaney were all called on to produce related information.
Trump and his closest allies have responded to the probe by slamming it as nothing more than a Democratic "witch hunt." But many of the key witnesses in the House Democrats' investigation have been Trump's own officials or lifelong public servants, like Fiona Hill and William Taylor.
On Wednesday, Trump slammed Republicans who wouldn't pledge their loyalty to him throughout the impeachment inquiry as "human scum." He also called for his administration to stop hiring "Never Trumpers" who don't blindly support him.
"The Never Trumper Republicans, though on respirators with not many left, are in certain ways worse and more dangerous for our Country than the Do Nothing Democrats. Watch out for them, they are human scum!" Trump tweeted.