Majority of NATO Nations Fail to Spend 2 Percent GDP Guideline for Defense
Just eight of the North Atlantic Treaty Organization's (NATO) 30 member nations met the alliance's military spending guidelines, with the U.S. still by far the defense pact's biggest spender, according to the organization's annual report.
The new numbers were published Thursday in NATO Secretary General Jens Stoltenberg's annual report for 2021. While figures show more members of the Cold War-era military alliance are meeting their spending commitments, they confirm a complaint from some Republicans, and others, that member countries aren't paying their fair share.
NATO members in 2006 agreed to spend at least 2 percent of their gross domestic product (GDP) on defense to ensure the readiness of the alliance, which guarantees a mutual response if one member is attacked. Member countries in 2014, following Russia's annexation of Crimea, signed off on a pledge calling for them to meet the 2 percent GDP spending guidelines by 2024.
"The threats and security challenges that led to the adoption of the Defence Investment Pledge in 2014 have not subsided," reads the report. "Indeed, they have multiplied and intensified."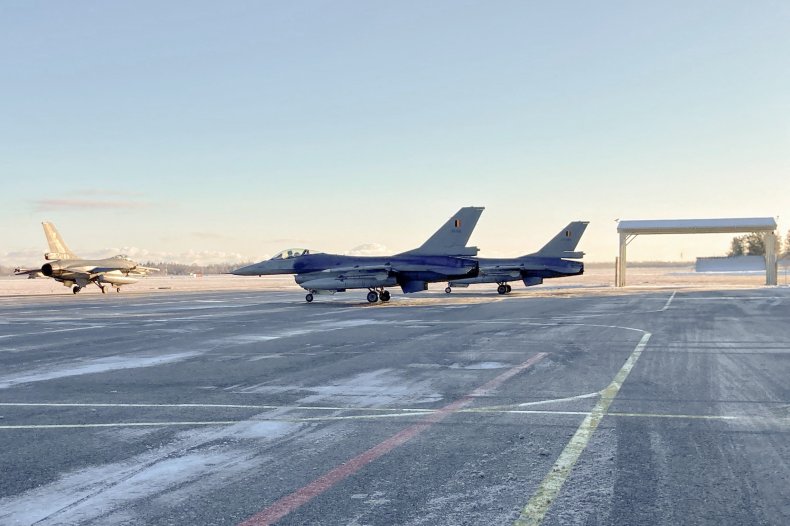 For the last seven years, European members of the alliance and Canada have increased their spending by 3.1 percent, adding $270 billion, according to the report.
Stoltenberg said in a statement that the increased spending is a positive sign. During the NATO summit last week to discuss Russia's invasion of Ukraine, he said member countries pledged to do more. "Allies agreed that we must redouble our efforts to invest more, and more quickly, in our defence."
However, the report shows that the U.S. still accounted for just over half of the alliance's GDP spending and 69 percent of total defense expenditures in 2021. The report puts total NATO military spending for 2021 at $1 trillion.
The other countries that met the 2 percent threshold include the United Kingdom, Greece, Croatia, Poland, Estonia, Latvia and Lithuania.
Germany spent 1.49 percent of its GDP on defense, putting it in the bottom 10 for spending despite having Europe's largest economy.
The reluctance of Germany to increase spending on defense was a complaint of former President Donald Trump, who produced mixed signals over NATO and at one point called the alliance "obsolete."
Republican Senator Josh Hawley revived the complaint in a letter to Secretary of State Antony Blinken before Russia's invasion, writing that concerns about "NATO enlargement might be lessened if our European allies were shouldering their fair share of the burden of our collective defense."
Following Russia's invasion of Ukraine, German Chancellor Olaf Scholz said it was clear the country needed to increase defense spending.
Canada ranked 25th in military spending at 1.36 percent of its GDP. In a statement to the CBC, Canada's Department of National Defense said that "the fluctuation in the NATO estimate since June 2021 is the result of changing GDP forecasts, due to the economic impact of the COVID-19 pandemic and current economic recovery."
Stoltenberg said in an interview with CBC's Power & Politics that Canadian Prime Minister Justin Trudeau assured him the country "would consider significant further increases in defense spending."
The 2014 pledge also called for allies to spend at least 20 percent of annual defense expenditures on new equipment. Allies have fared better on this target, with 21 members meeting the 20 percent goal.
NATO came into focus earlier this year as Russia amassed troops along its borders in the run-up to its invasion of Ukraine, which is not a member of the alliance. Amid the rising tension, President Joe Biden directed U.S. troops to eastern European members of NATO to shore up support for the alliance.
Stoltenberg said in a statement accompanying the report that NATO's support in the form of training and equipment for Ukraine made the country's military better prepared for Russian aggression.
Newsweek has reached out to the State Department for comment.