Majority of New Yorkers Don't Want Andrew Cuomo to Resign Despite Recent Scandals: Poll
A majority of registered New York voters surveyed in a recent Quinnipiac University poll said they do not believe Governor Andrew Cuomo should resign despite two scandals that are currently casting shadows over his office.
The embattled New York Democrat said earlier this week he does not intend to leave his post despite other lawmakers' calls for his resignation after three women, including two of his former aides, accused him of sexual harassment. Cuomo is also facing criticism for his administration's reporting of COVID-19 deaths in nursing homes, which the state attorney general said have been undercounted by about 50 percent.
Though 59 percent of respondents told Quinnipiac pollsters they are "not satisfied" with Cuomo's handling of the sexual harassment allegations thus far, 55 percent said they do not think he should resign. But an even stronger 59 percent majority said they don't think he should run for re-election as his term comes to an end next fall.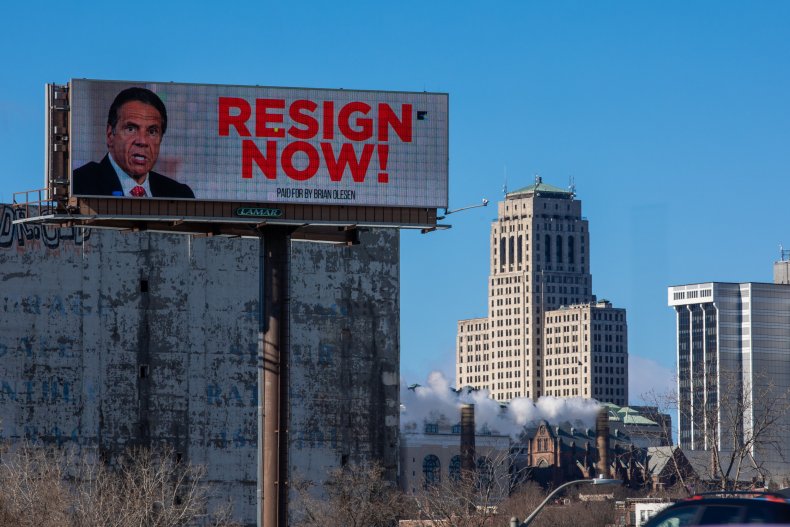 Quinnipiac pollsters wrote that the 72 percent job approval rating Cuomo experienced last May as he led the state through its first wave of the coronavirus pandemic plummeted 27 points to 45 percent by early March.
"From popular to precarious, Governor Andrew Cuomo's political standing is on shaky ground," Quinnipiac University polling analyst Mary Snow said in a Thursday news release. "New Yorkers are not clamoring to have him step down at this stage, but they are signaling a willingness to show him to the exit door once his term is done."
In addition to gauging Cuomo's overall approval rating, pollsters asked New Yorkers about their opinions of his administration's handling of data regarding COVID-19 deaths in nursing homes. Though 56 percent of respondents told pollsters they approve of Cuomo's overall response to the pandemic, 24 percent of respondents said they think Cuomo acted illegally in terms of how his administration reported virus deaths in nursing homes and an additional 51 percent said they think his actions were unethical, though not illegal.
Pollsters also surveyed New Yorkers' views on the sexual harassment allegations Cuomo is facing and his response to those allegations thus far. When asked specifically about the allegations made by Cuomo's former aides, 79 percent of respondents rated them either very or somewhat serious, and only 30 percent of respondents said they believe Cuomo is being honest about the allegations.
"Governor Cuomo's apology and explanation about the sexual harassment allegations aren't cutting it with New Yorkers," Snow said in the release. "A clear majority indicate Cuomo's response falls short and only 3 in 10 voters are convinced at this point that he's being truthful."
Quinnipiac pollsters said the survey was conducted on March 2 and 3 among 935 New Yorkers who self-identified as registered voters, with a 3.2 percent margin of error.
On the poll's second day, Cuomo apologized for his past behavior during a news conference. He said his intention was not to make other people uncomfortable but acknowledged he had done so.
"I now understand that I acted in a way that made people feel uncomfortable. It was unintentional and I truly and deeply apologize for it," Cuomo said. "I feel awful about it and frankly, I'm embarrassed by it, and that's not easy to say but that's the truth."
Cuomo went on to deny allegations of inappropriate touching and said he would "fully cooperate" with an independent review that New York Attorney General Letitia James is conducting.
"I have learned from what has been an incredibly difficult situation for me as well as other people, and I've learned an important lesson. I'm sorry. I'm sorry for whatever pain I caused anyone. I never intended it, and I will be the better for this experience," he said.
Newsweek reached out to Cuomo's office for further comment.