Majority of Palestinians Support Knife Attacks, Unless The Attacker Is a Young Girl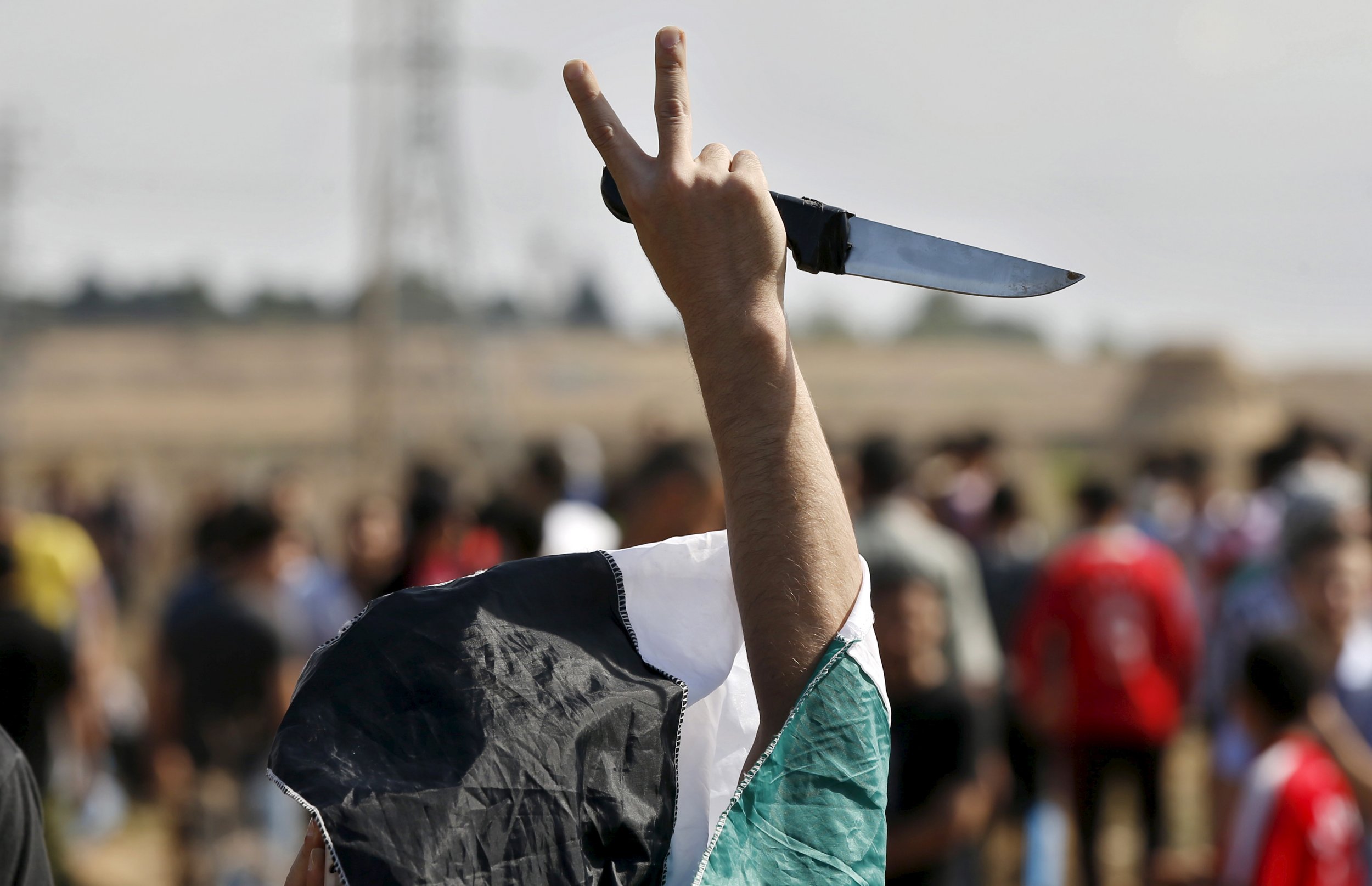 Two-thirds of Palestinians in the West Bank and the Gaza Strip support the current spate of knife attacks against Israelis on the streets of Israel and the Palestinian territories—but almost three-quarters disapprove of young girls doing the stabbing, according to a new poll released on Tuesday.
Since October 1, Palestinians have killed nineteen Israelis and one U.S. citizen in a series of stabbings, shootings and car rammings. The attacks began as anger over allegations that Israel was attempting to change the status quo at a Jerusalem holy site—known as the Haram al-Sharif to Muslims and the Temple Mount to Jews— reached boiling point. Israeli forces have killed 119 Palestinians in clashes over the past two months. Of those, Israel says, 67 were attackers.
The survey, conducted by the Palestinian pollster Khalil Shikaki for the Palestinian Center for Policy and Survey Research (PSR), shows that 67 percent of Palestinians across both territories support the use of knives in confrontations with Israelis, while 31 percent oppose the tactic.
But Palestinian public opinion turns when people are asked about the involvement of schoolgirls in the attacks, with 73 percent against young girls having a role in any kind of attack.
Female Palestinians have been implicated in a number of stabbings against Israelis in recent months. In September, Israeli forces shot dead a Palestinian woman who was suspected of attempting to stab a soldier in the West Bank city of Hebron. In October, an 18-year-old female Palestinian stabbed an Israeli in Jerusalem, Israeli police said, before she was shot and wounded by the injured victim.
The poll results show the complexities of the Palestinian psyche, with the majority of Palestinians advocating violence against Israelis—for reasons disputed by both sides—while also believing that women, especially young girls, should not be exposed to that violence.
Shikaki, the director of PSR, tells Newsweek by phone from Ramallah that the number of Palestinians that support stabbing attacks shows a growing radicalization, particularly among the young. There are various reasons behind the rise in radical sympathies, Shikaki says, including a moribund peace process, the failure of the Palestinian leadership to achieve peace, the perceived Israeli threat against holy places, and incidents such as last summer's Gaza conflict and July's Duma firebombing by suspected Jewish extremists that killed three members of the Palestinian Dawabsha family—18-month-old Ali, his mother Reham, 27, and his father, Saad.
"All of this contributes to a sense that the world is abandoning us, the international community is disengaging, the Palestinian leadership lacks credibility or is not leading and that the public needs to act and there's a need to inflict pain and suffering," he says. "Anything that inflicts pain or suffering on the Israelis will now become popular. This is where we are."
Yet, even the growing anger among Palestinians can't change their views on the place that women have in their society, Shikaki notes. "Most people feel [young girls] should not be carrying knives and attempting to stab people, even Israelis," he says. "I think that stems mostly from social beliefs about the role of women and particularly the role of children in the confrontations."
PSR did not ask the Palestinian public about young boys committing such attacks because the researchers "thought that most people would not mind boys doing it."
Despite almost three-quarters of Palestinians opposing the role of young women in the attacks, the poll revealed that a sizable number—one quarter—support their role in stabbings. That number may mean that ideas of the roles women play in Palestinian society may be slowly changing, says Grant Rumley, researcher of Palestinian and Jordanian politics at the Washington D.C.-based NGO Foundation for Defense of Democracies.
"Traditionally, it was Palestinian men who played a dominant role in clashes with Israelis," he says. "Now, the women and children have taken a more predominant role. I can only surmise that opinions are evolving regarding the role of women in Palestinian society. Look at the women of al-Aqsa, for instance, who are leading protests and clashes against Israeli visitors."
Other key numbers shown by PSR's latest poll include: 37 percent of Palestinians believe that the current confrontations with Israeli forces and citizens will escalate into a "new armed Intifada," or uprising, while 18 percent believe the confrontations will grow into wide-scale "peaceful, popular confrontations." Thirteen percent believe they will develop in both directions.
Two-thirds of Palestinians (71 percent in Gaza and 63 percent in the West Bank) believe that a new armed Intifada would serve Palestinian national interests "in ways that negotiations could not." Only 50 percent of the Palestinian public believes that peaceful protests would serve national interests.