Majority of Police Officers See Black Lives Matter Positively, Support Reforms: Poll
Most law enforcement officers support Black Lives Matter and police reform, according to new polling data.
Survey results released by Morning Consult on Thursday showed 58 percent of respondents who identified as police officers said they view Black Lives Matter favorably. Support for the movement increased to 72 percent when responses from police households of color were considered exclusively. It dropped to 45 percent among white police households.
In general, 56 percent of survey participants said they support Black Lives Matter. Morning Consult, a market research company, collected responses from close to 10,000 registered U.S. voters between June 19 and June 24, about one month after George Floyd's death while in custody of officers from the Minneapolis Police Department sparked global protests against law enforcement abuses and systemic racism. The poll results' margin of error ranges from plus or minus 1 to -7 percent, according to Morning Consult.
Those who participated in the poll also shared responses that reflected their views on reform, as protesters called for broad changes to police practices and lawmakers began to follow suit with legislation. The poll showed 59 percent of police officers who responded support banning no-knock warrants and 68 percent support prohibiting law enforcement's use of chokeholds.
Several months after Breonna Taylor was fatally shot by Louisville Metro Police Department officers who entered her apartment on a no-knock warrant in March, Louisville passed a law banning the warrants from further use. A no-knock search warrant authorizes officers to enter property without notifying residents beforehand. New York's state Legislature passed a series of police reforms in the weeks following Floyd's death in Minneapolis. One of them outlawed the use of chokeholds, the practice that led to Eric Garner's death in 2014.
Between 64 and 74 percent of poll respondents who identified as police said they support a range of additional reforms to law enforcement practices, including mandatory use of body-worn cameras, dashboard cameras inside police vehicles and requirements for reporting all stops and uses of force. A greater portion of general voters who responded said they support each reform effort.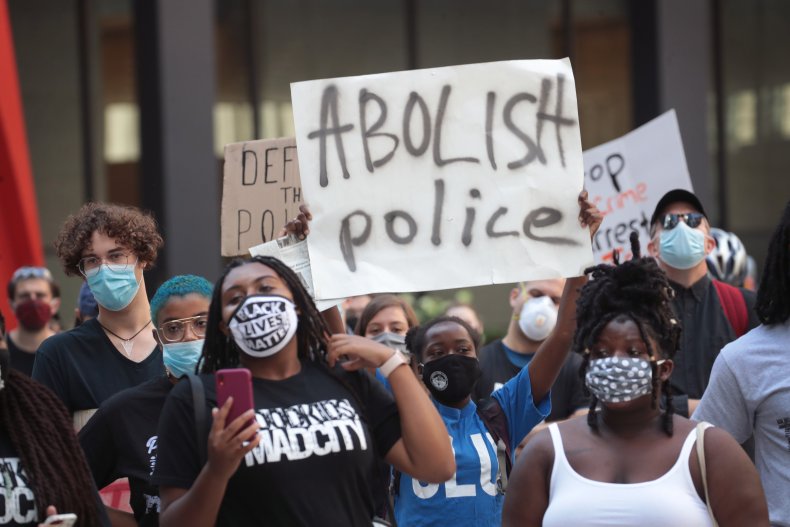 Poll responses from general voters and police showed most acknowledge systemic racism's impact on law enforcement practices, with 61 percent saying they disagree with the statement: "Police violence against Black people is rare." Roughly half of respondents who identified as police said they agree, while 38 percent said they do not. Another 12 percent of police respondents were unsure.
Multiple studies examining use of force by U.S. police officers have found people of color disproportionately experience violence during interactions with law enforcement compared to white people. One study, published by research journal PLOS One in June, found Black individuals were at least three times more likely, on average, to be killed by police compared to white individuals. The data examined fatal police interactions reported across the U.S. between 2013 and 2017.