As the U.S. saw an alarming rise in the number of unvaccinated expectant mothers hospitalized with COVID-19, the U.S. Centers for Disease Control and Prevention last month urged all pregnant people to get vaccinated.
The recommendation came after new safety data showed no increased risks of miscarriage for those who received at least one dose of the Pfizer or Moderna vaccine before 20 weeks of pregnancy.
But almost two months later, vaccination rates in pregnant people remain "extraordinarily low," CDC Director Dr. Rochelle Walensky told reporters at a White House briefing this week.
According to the latest data, only around 32 percent of pregnant people are fully vaccinated against COVID-19. Black pregnant people have the lowest vaccination rate, with around 16 percent fully vaccinated.
The worrying numbers prompted the CDC on Wednesday to issue an urgent advisory for pregnant people and those who have recently given birth to get vaccinated as soon as possible. Pregnant people with symptomatic COVID-19 have a 70 percent increased risk of death, as well as an increased risk of preterm birth, stillbirth, and a newborn needing intensive care.
The CDC's advisory noted that as of Monday, there have been more than 125,000 confirmed cases of COVID-19 in pregnant people including more than 22,000 hospitalized and 161 deaths—22 of which occurred last month.
Reports of those deaths were part of what led Kara Weiske, who is six months pregnant with her first child, to get her first dose of the coronavirus vaccine last week.
"There are really extreme cases happening where mothers are ending up not being able to survive and their babies are having to be born preterm," she told Newsweek. "It definitely heightened the importance of it to me because that's definitely something I don't want to happen."
Weiske said she had been unsure about getting the vaccine while pregnant, but was concerned about not being protected because she works as a waitress at a busy restaurant in Orlando, Florida—a state grappling with its deadliest wave of the pandemic.
She said earlier in her pregnancy, she had been advised by her doctor to wait until more was known about the effects of the vaccine in pregnant people. But her concern about the Delta variant, the recent CDC data as well as consultations with several doctors convinced her it was time. "It was kind of all across the board that they recommend getting it," she said. "I think that it's important to really value medical professionals that are seeing this stuff up front."
She had a sore arm for a couple of days, she said, but hasn't noticed any changes in her pregnancy.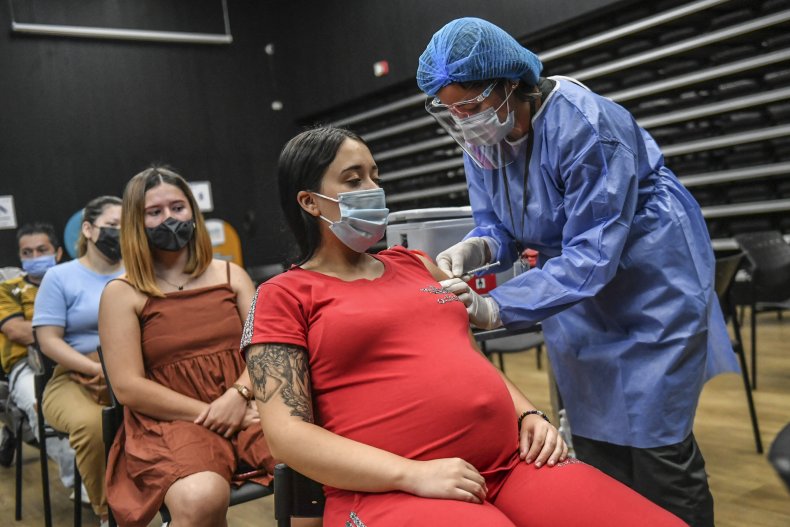 But experts say convincing some pregnant people to get vaccinated against COVID-19 has been hampered by the delays in releasing safety data.
Dr. Sarah Cross, the medical director of the Birthplace and Pregnancy Special Care Unit at M Health Fairview University of Minnesota Medical Center, said the CDC's recommendation came months after the vaccines became available because pregnant people were excluded from initial vaccine trials.
"Pregnant people were excluded from all the initial vaccine trials but then we turned around and said, go ahead and get vaccinated, and it made people very anxious about doing so. I think it's gonna take some time for that to catch up," Cross, who is also an assistant professor of obstetrics, gynecology and women's health at the University of Minnesota Medical School, told Newsweek.
She called for changes to research protocols to prevent such delays in an op-ed for The Washington Post last week.
Cross acknowledges that pregnant people tend to be vaccine hesitant in general, not just with the COVID-19 vaccine. "It's partly the general concern that most pregnant people have about doing something that might harm their baby, even though we're telling them it's not, and I think partly, it's a little bit of distrust because pregnant people weren't initially included" in the trials, she said.
Doctors were "really limited" in what they could tell patients about COVID-19 vaccines and pregnancy earlier in the pandemic, said Dr. Torri Metz, an associate professor of obstetrics and gynecology at the University of Utah who has researched COVID-19 in pregnancy.
"At that time, it was a risk-benefit discussion," Metz said. "We now have data that shows these vaccines are safe and effective for pregnant people. That is why the guidance has shifted to strongly recommend the vaccine in pregnancy."
Stacy Wood, a professor of marketing at North Carolina State University, said a factor to consider was "uniqueness neglect"—a phenomenon discussed in a paper she co-wrote on COVID vaccine promotion earlier this year.
"Many people worry about 'one size fits all' medical solutions and feel like they neglect their own uniqueness as patients," Wood told Newsweek.
Early in the vaccination campaign, officials "assumed that people wouldn't worry about that in the face of the larger worry of the disease itself," she said. "But, time has now shown us that people who are pregnant do think their condition makes them unique from the average person and don't feel like a blanket injunction to get vaccinated was really reassuring.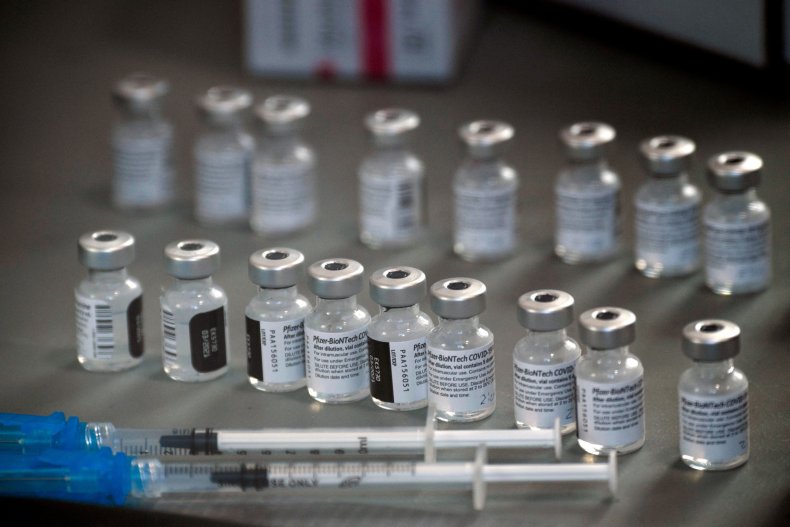 "Since then, there have been specific calls to get vaccinated if you are pregnant, but nothing in the delivery of the vaccine is different and the special calls are a bit late in the game as many pregnant women are worried."
Suri Kinzbrunner suggested this was the case when she explained her reasons for not getting vaccinated during pregnancy in a recent op-ed for Newsweek.
"The more options when it comes to preventing and treating COVID-19, the better!" Kinzbrunner wrote. "But this does not mean that all options should necessarily be utilized by all people en masse, and this is how I arrived at my current decision to opt out of the vaccine."
She also argued that inconsistent policies and public responses has led many people like her to be skeptical of government-issued guidance.
Dr. Amalia Londoño Tobón, a psychiatrist and researcher who treats pregnant patients, said her patients have been divided on getting the COVID-19 vaccine. "There's usually a third that really are ready to get it, there's probably a third that are like, maybe I'll get it and then there's a third that really don't want to get it," she told Newsweek.
Some felt their exposure to the virus was limited or had already gotten COVID-19, she said, while one patient who had a mistrust of the healthcare system.
Londoño Tobón said some people may also be buying into debunked claims about vaccines being linked to autism.
She also has personal experience about making the decision: she got vaccinated while pregnant with her first baby in April. Last week, she posted a thread on Twitter about it last week in a bid to help others struggling to decide.
"It was hard not knowing how it was going to affect me or my baby," she tweeted. "But ultimately as reassuring data came out on vaccines in pregnant and postpartum people and babies, I decided to get the vaccine to make sure I remained healthy and could give some immunity to my baby."
Cross got vaccinated in December last year. At the time, she was breastfeeding her "pandemic baby" Sophie, but she also wanted to protect her other children—aged three and five. "I know that the best way to keep them from getting COVID is for me not to bring it home," she said. "The best way for me not to bring it home is to be vaccinated."
Cross also worries about the ramifications of unvaccinated people feeling marginalized. "They need a chance to be heard, and hopefully have their misconceptions addressed," she said.
Metz agreed. "I tell my patients to share with me their concerns about the vaccine," she said. "Sometimes there is misinformation that they have received on social media, or through friends and family, that I can combat with the science. Many patients then feel safe and relieved that they can get vaccinated."
Weiske says she feels "a little safer" now she's had her first shot. "The thought of childbirth is already pretty stressful and pretty scary for a lot of women, so it's just an extra precaution, protecting yourself and the baby," she said.
Cross notes the only ways to get immunity from COVID-19 is by getting a vaccine or by getting the virus.
"I would choose a vaccine to get my immunity hands down over getting COVID," she said. "It is true, a vaccine has some risk associated with it, but the risk is so minute compared to the risk of getting COVID."
She added: "Every day you're not vaccinated is a day that increases your chance of getting COVID. There's just no reason to wait and every reason to just do it today."