Majority of Republicans Polled View Putin as a 'Very Strong Leader'
In the weeks before Russia's invasion of Ukraine, a poll found that a majority of Republicans viewed Russian President Vladimir Putin as a "very strong leader," echoing sentiments recently voiced by former President Donald Trump and his former Secretary of State Mike Pompeo.
Roughly 53 percent of Republican respondents said they viewed Putin that way, according to a poll conducted by internet-based market research firm YouGov and international news and business publication The Economist. An additional 36 percent of Republicans viewed Putin as "somewhat strong."
Comparatively, 35 percent of Democrats viewed Putin as "very strong," with 37 percent viewing him as "somewhat strong."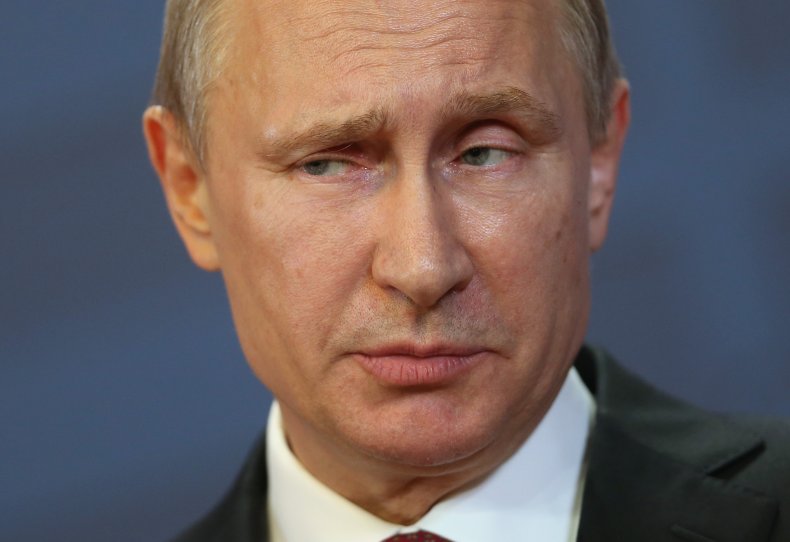 The poll also found that 15 percent of Republican respondents said that they had either a "very favorable" or "somewhat favorable" view of Putin. Comparatively, only 8 percent of Democratic respondents said that they had either a "very favorable" or "somewhat favorable" view of the Russian leader.
The poll was conducted from January 22 to January 25, before Putin authorized an invasion of Ukraine. It surveyed 1,500 American adults and had a margin of error of plus or minus 3 percentage points.
Over the weekend, Russia recognized the independence of two Russian-controlled territories in east Ukraine—the Donetsk and Luhansk People's Republics. Afterward, Russia sent its military on a so-called peacekeeping mission to those territories and announced its intention to occupy them as well.
Putin has said that he essentially views the territories as part of Russia, which has armed, financed and politically controlled separatist factions in the regions since 2014, according to The Guardian. Putin has also said his country's aggression toward Ukraine is an attempt to oppose the country's entry into the North Atlantic Treaty Organization (NATO), the multinational force that seeks to limit the military influence in Europe of Russia and other countries.
The U.S., the European Union and NATO all denounced Russia's actions and pledged countermeasures and sanctions.
On Tuesday, Trump praised Putin's invasion into Russia as "genius" and "wonderful" while speaking on the conservative talk radio program The Clay Travis and Buck Sexton Show. Trump also referred to Putin as "tough" and patriotic.
"I went in yesterday, and there was a television screen, and I said, 'This is genius.' Putin declares a big portion of the Ukraine ... as independent," Trump said. "Oh, that's wonderful. I said, 'How smart is that?' And he's going to go in and be a peacekeeper."
"I mean, you know, he's a tough cookie, got a lot of the great charm and a lot of pride. But the way he—and he loves his country, you know? He loves his country," Trump continued.
Similarly, Pompeo repeatedly praised Putin in the run-up to the invasion. His praise was rebroadcast on Russian television.
In late January, Pompeo said of Putin, "Very shrewd, very capable. I have enormous respect for him. I've been criticized for saying that. No, I have enormous respect for him."
Speaking of Putin's capabilities during Pompeo's tenure, the former secretary of state said Putin "was always well-informed and deeply clear about what Russian interests were. I appreciated that. It required the same from us, from me, from my team. We had to be equally prepared and equally protective of the interests that matter to the United States. He is very savvy, very shrewd."
Newsweek reached out to the Republican National Committee for comment.