Majority of Republicans Say Congress Should Object Electoral College Certification: Poll
A majority of Republican voters say that Congress should object the Electoral College certification and overturn President Donald Trump's loss in the presidential election, according to a new poll.
Conducted by Morning Consult, the survey found 53 percent of Republicans saying that members of Congress should object the certification of state's Electoral College votes, which is scheduled to take place on Wednesday. About 31 percent of Republicans said members of Congress should accept certification.
Meanwhile, Democrats and independents—87 percent and 59 percent, respectively—were more likely to say that Congress should accept the state's electoral tallies.
Among all Americans, the poll found 62 percent saying Congress should accept the results, while 24 percent said they should reject.
Morning Consult surveyed 1,893 registered voters from January 4 to January 5 and reported a margin of error of plus or minus 2 percentage points.
The poll's findings come ahead of the joint session in Congress to count each state's Electoral College votes to certify President-elect Joe Biden's win. In the days leading up to the certification, a number of Republican lawmakers have publicly announced that they plan to object the state's electoral votes and will seek to overturn Trump's loss while making repeated claims of widespread voter fraud.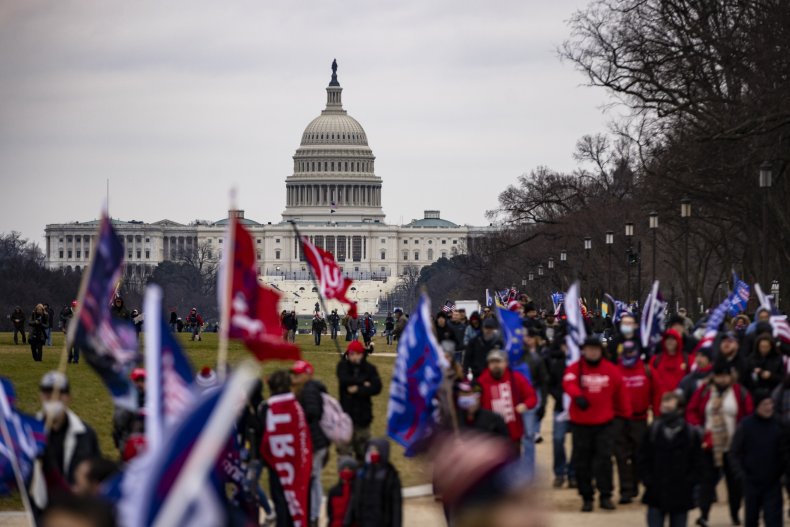 On December 30, Missouri Republican Senator Josh Hawley became the first member of the Senate to say he plans to object state's electoral votes.
"I cannot vote to certify the electoral college results on January 6 without raising the fact that some states, particularly Pennsylvania, failed to follow their own state election laws," Hawley wrote in a statement. "At the very least, Congress should investigate allegations of voter fraud and adopt measures to secure the integrity of our elections. But Congress has so far failed to act."
In addition to Hawley, 13 other Republican Senators also plan to object the results on Wednesday, as well as at least 140 Republican House members.
However, several of Trump's longtime allies in the Senate, among them South Carolina's Lindsey Graham and Arkansas' Tom Cotton, have publicly opposed the plan to challenge the Electoral College certification.
Ahead of the joint session in Congress, The Washington Post on Sunday revealed the contents of a phone call between Trump and Georgia Secretary of State Brad Raffensperger. The president could be heard stating that the ballots in the state were "corrupt" and urged Raffensperger to "find" more votes.
"I just want to find 11,780 votes, which is one more than we have because we won the state," Trump said during the call.
Following the revelation of that phone conversation, the poll also found that 60 percent of Americans said that Trump's conduct inappropriate, with 50 percent saying very inappropriate, and 10 percent saying somewhat inappropriate.