Majority of Republicans Say It's Risky to Send Children to School in the Fall: Poll
President Donald Trump's administration is pushing for schools to reopen in the fall, but a majority of parents, including Republicans, think it's a risky decision.
By sending their child to school in the fall, seven in 10 American parents said there would be a large or moderate risk to their child's health and well-being, according to an Axios/Ipsos poll released Tuesday. Although Democrats were 29 percentage points more likely than Republicans to express that the concern, 53 percent of Republicans surveyed said they thought there was a risk with resuming in-person classes.
Schools nationwide moved to online learning as cases of the new coronavirus rose in the in the spring. While many were hopeful the classroom closure would be short-lived, it lasted through the end of the school year. California's two largest counties will not reopen schools in August when the new school year starts.
Trump is not keen on keeping schools closed and has threatened to withhold federal funding if remote learning continues. In defending his stance at a White House event on July 7, the president pointed to the low mortality rate and the increase in virus testing, as well as young people's decreased risk of developing serious diseases or dying, as reasons why schools could safely reopen.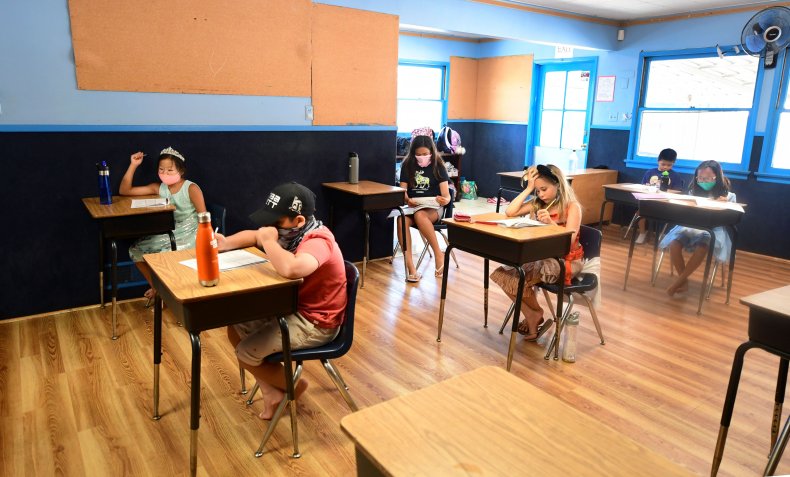 Members of the Trump administration also compared the low risk the virus poses to most young people with the damage that could be done if they're kept at home. Press secretary Kayleigh McEnany highlighted the disproportionate impact of remote learning on lower-income students, including the widening of the education gap and not receiving meals at school.
Sally Goza, president of the American Academy of Pediatrics, supported the points McEnany made and said during the July 7 event that kids also rely on school for social and emotional skills, as well as mental health support. Goza added that schools help identify learning deficits, abuse, depression and suicidal thoughts.
"These are all critical reasons to get children back to school," Goza said.
Goza acknowledged that safely reopening schools will require a significant investment. Those resources, teachers unions said, have yet to be provided, and the Trump administration has been criticized for not having a clear path forward.
In addition, governors have pushed back on Trump's dominance over the situation and claim it's their decision to reopen schools or keep them closed. With the presidential election looming, Trump has pushed for reopening businesses to kick-start the economy and says there was a political motivation for keeping schools closed.
However, given the results of the Axios/Ipsos poll, Cliff Young, president of Ipsos U.S. Public Affairs, said there were "serious political risks" for Trump and Republicans by reopening schools. He added that American parents can't be "force-fed policies that go against what they think." Right now, he said, they're thinking it's not safe to put children back in school.