Majority of Republicans Want to Prioritize Coronavirus Containment Over Economy in New York: Poll
More than half of Republicans in New York think prioritizing containment of the coronavirus pandemic should take priority over reopening the economy, new polling results show.
The new Siena College survey, which was published Monday, showed that seven out of 10 people in New York state prefer that the government focus on ensuring that the outbreak is contained over economic concerns. That included 81 percent of Democratic voters and 52 percent of Republicans.
Among respondents in upstate New York, a clear majority (two-thirds) said that curbing the spread of the novel virus should take precedence over economic reopening. Statewide, 73 percent of respondents said they always wear a protective mask in public, while two-thirds of respondents believed the worst of the outbreak is yet to come.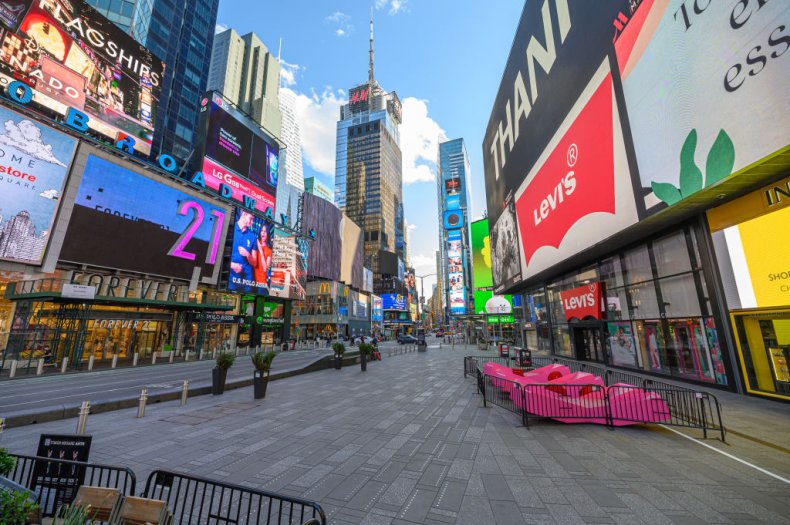 Although New York was initially the hardest hit part of the country, stringent lockdown measures and social distancing have effectively curbed the spread of the virus and flattened the curve of new infections in the state. While multiple states have seen a major spike in new infections and record highs in new deaths over the past week, New York City reported zero new deaths from COVID-19 on Sunday for the first time since the first confirmed fatality, on March 11. Across the state, just 10 deaths were reported.
However, New York, which has the nation's fourth-highest population, remains the state with the highest number of infections and deaths. As of Sunday, the state had reported more than 406,000 confirmed cases and over 32,000 deaths, according to a tracker from The New York Times.
The new New York poll aligns somewhat with a national poll conducted by The Economist and YouGov from July 5 to 7. That survey found that a majority—57 percent— of Americans support shutting down state economies again, if necessary, to curb the spread of new infections. Of those, 34 percent said they strongly support shutting down the economy once again, and 23 percent said they somewhat support returning to lockdown.
As new infections have surged in multiple states across the country—particularly in Florida, Texas and California—many governors and municipal leaders have paused their reopening plans and in some cases reversed them. Texas Governor Greg Abbott, a Republican, warned on Friday that "the worst is yet to come" in an interview with KLBK TV in Lubbock. He suggested that the "next step would have to be a lockdown" if the situation does not improve.
Nationwide, the U.S. confirmed nearly 58,000 new infections on Sunday, with 395 new deaths reported. The U.S. continues to be the country with the highest number of reported cases and deaths, with more than 3.3 million infections and nearly 135,000 dead. Those numbers represent roughly a quarter of the global totals.