Headlines and viral videos of heated school board meetings and public backlash over claims that critical race theory (CRT) is being introduced in American public schools has worried many teachers about saying the wrong things in their classrooms—and their anxieties are persisting despite the fact that the majority say they're not teaching CRT.
A 2021 survey conducted by the American Association of Educators (AAE), the largest non-union teachers organization in the country, found that only four percent of educators are being directed to teach CRT by their school or district.
The same survey found that more than half feel apprehensive about saying the wrong thing to their students about race.
"One of the key takeaways from the survey was a real anxiety about potentially getting in trouble for teaching or not teaching, or being perceived as saying something offensive when talking about current events—a fear that an already difficult job has become harder because of how intense the discussion about how we teach history and race issues in schools," AAE Executive Director Colin Sharkey told Newsweek.
The issue of critical race theory being taught in schools has become particularly troubling for educators because much of the curriculum that has been flagged as teaching "critical race theory" is not the academic concept predominately taught in higher education institutions.
Rather, the readings and teachings some have raised issue with have more to do with lessons on slavery, civil rights and the founding fathers—topics that are no longer taught under the same standards many remember learning decades ago.
"Technically, the post-secondary concept of critical race theory is not being taught in kindergarten, but the books on the bookshelf look very different than what the parents thought were there when they were kids and they're uncomfortable," Sharkey said.
"I think a number of educators took the opportunity to review what they've been teaching, the examples that they're using and the stories that they're pulling from to ensure they're more reflective of the students they serve," he added. "The vast majority of educators want to make sure that we're teaching basically the full history of the country, reflecting the diversity and challenges and backgrounds."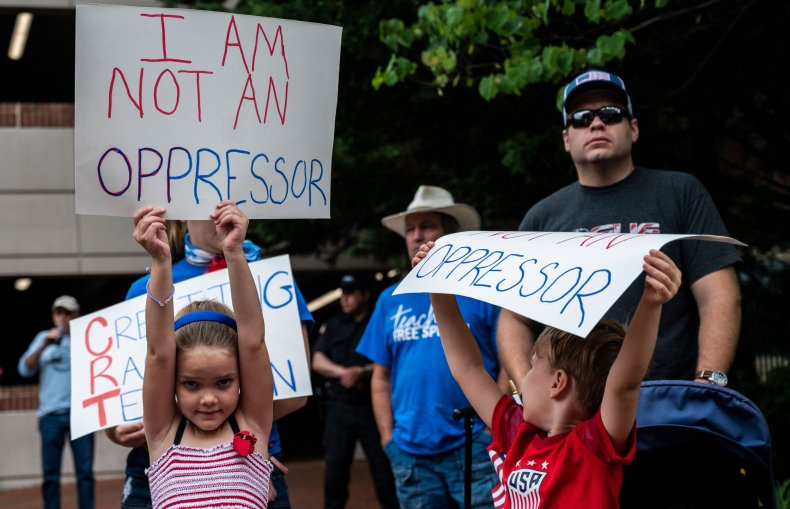 While the AAE's survey found that nearly 9 in 10 teachers believe they should not be required to teach CRT in the classroom, more than 80 percent agreed that curriculums should include the narratives of diverse cultures.
How teachers will go about broaching those ideas or answering sensitive questions poses another hurdle owing to new legislation that has amplified what not to say.
Over the last year, 34 states have introduced bills or taken other measures to ban or restrict educators from teaching CRT or discussing racism in classrooms, according to an analysis from Education Week.
Sharkey worries that these preemptive steps to a problem that doesn't impact the bulk of public school students will create a chilling effect on the nation's teachers.
"One of the other elements of [the anxieties of teachers] is confusion about what's being required versus what's being introduced, what state laws banning CRT actually do and don't allow for," he said. "It's a chilling effect on educators who want to be able to address their students' needs and who want to focus on the curriculum in their classroom."
Sharkey said one of the reasons AAE surveyed its members was to learn if "they're witnessing situations in their current school or have they seen the news and they're getting ahead of what they're anticipating."
"Three to one said that the media was paying too much attention to CRT, based on what they're witnessing in their classrooms," he said. "You get a sense of 'I'm not really witnessing this in my classroom'"
Sharkey emphasized that while American teachers may currently be at a crossroads, parents should be reminded that "it should never be a mystery what's being taught in your kid's classrooms."
"I talk to educators regularly who want the parents involved. They want the parents helping the kids when they're not in the classroom to continue to do the work. They want the parents aware of where their child is," Sharkey said.
"Welcoming that feedback can add complexity to the job but in the long run, it's going to make for a better education system and parents are engaged," he added.