Majority of Teens, Parents Worry About New School Shootings: Poll
Two months after the Parkland, Florida, school shooting, a majority of American teens and parents of teens are worried about a new school shooting.
The deadly February 14 shooting at Marjory Stoneman Douglas High School, which left 17 students and staff members dead, was the worst school shooting since the one in 2012 at Sandy Hook elementary in Newtown, Connecticut.
Fifty-seven percent of teens surveyed are worried about the possibility of a school shooting, according to new Pew Research Center surveys. Pew cited that one in four teenagers aged 13 to 17 are "very worried," while 29 percent say they are "not too worried." Thirteen percent surveyed said they are "not at all worried."
Just three weeks after the incident, 756 copycat threats were made according to Educator's School Safety Network, a watchdog group. As the national gun control debate continues, schools have worked to enact safety measures to ease fears and prevent future incidences.
Marjory Stoneman Douglas has ordered students to carry clear backpacks and installed extra security checkpoints. The school is considering metal-detecting wands.
The Pew poll was conducted in March and April and also broke down factors ranging from gender to race.
Sixty-four percent of nonwhite teens—including 73 percent of Hispanics—expressed a "higher level" of concern over white teens, at 51 percent.
Parents of teens shared similar opinions with 63 percent of respondents noting "they are at least somewhat worried" over future school shootings.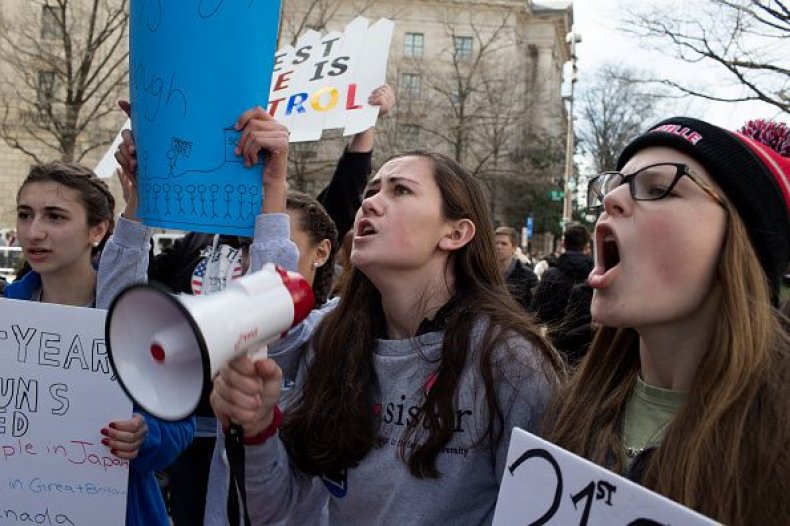 In the aftermath of the Florida shooting, one of the largest ever youth-led movements emerged. Advocates, including survivors from Parkland, have called for tighter gun restrictions. On March 24, students rallied at the nation's capitol and across U.S. cities in the March for Our Lives demonstration. Organizers estimated 800,000 participated, with thousands registering as first-time voters, according to HeadCount, a nonpartisan organization that registers young voters.