Majority of Trump Voters Believe 'Worst Part of the Pandemic is Behind Us': Poll
A majority of those voting for President Donald Trump believe that the worst of the COVID-19 pandemic is over despite cases and deaths continuing to surge one day before the election, according to a new poll.
The poll released Monday from The Economist/YouGov showed that 51 percent of Trump voters agree that "the worst part of the pandemic is behind us," compared to only 4 percent of those voting for Democratic presidential nominee Joe Biden.
A large majority of Biden voters, 80 percent, said that "the pandemic is going to get worse," joined by 17 percent of Trump voters. A further 10 percent of Biden voters and 16 percent of Trump voters agreed that "we are currently in the worst part of the pandemic."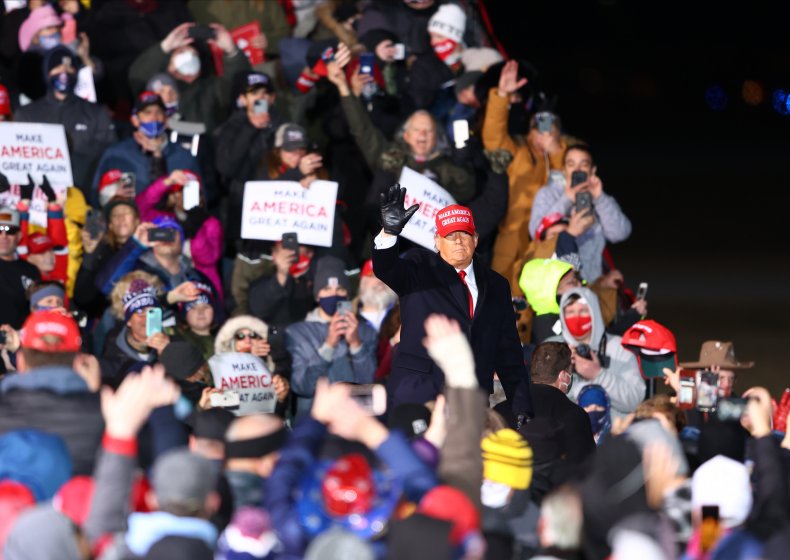 The poll showed Biden voters were twice as likely to have lost a friend or family member to COVID-19 than Trump voters, 26 percent to 13 percent. Those supporting the former vice president were also far more likely to be concerned about contracting the virus themselves, with 82 percent of Biden voters saying they were "very" or "somewhat" worried about the possibility, compared to 38 percent of Trump voters.
While 42 percent over voters overall either "strongly" or "somewhat" approved of Trump's handling of the pandemic, 88 percent of Trump voters approved, with 55 percent approving strongly. Ninety-one percent of Biden voters strongly disapproved, while another 4 percent somewhat disapproved and 3 percent approved.
The national poll was conducted online among 1,500 registered voters between October 31 and November 2. Its margin of error is plus or minus 3 percent.
As of Monday, the U.S. had surpassed 9.2 million COVID-19 cases, including 230,995 deaths, according to Johns Hopkins University. Despite having less than 5 percent of the global population total, the country has recorded nearly 20 percent of all COVID-19 deaths. Deaths have continued to steadily climb, while the country reached a peak of almost 100,000 new cases in a single day on Friday.
Biden and Trump have taken different approaches to addressing the pandemic in the final stretch of the election cycle. The former vice president has continued to focus his campaign on Trump's response to the virus, repeating his allegation that the president has "failed to protect this nation" during a campaign event in Pennsylvania on Monday.
The president has largely downplayed the threat, blasting the media for continuing to cover record case numbers that he insists happened because "we test more." Trump has also suggested that the death count is lower than officially reported, baselessly claiming that "very smart doctors" were artificially inflating COVID-19 death numbers for financial gain during a campaign rally in Michigan on Friday.
Newsweek reached out to the Trump and Biden campaigns for comment.