The Majority of Trump's Hangar Rallies Violate Coronavirus Restrictions on Large Public Gatherings
With less than 60 days until the November presidential election, President Donald Trump has made several stops in the eastern United States for political events. While North Carolina has seen an upwards trend in coronavirus cases this week, the president's latest rally was hosted to thousands of his supporters at Smith Reynolds Airport in Winston-Salem on Tuesday. Although violating the 50-people outdoor limit in the state, the gathering was protected under political speech exception.
However, social distancing was out the question at Tuesday's rally, with many supporters opting out of North Carolina's mandatory mask requirement when six feet of distance isn't possible. Campaign aids reportedly passed out flyers that read, "This Is a Peaceful Protest," a reference to the large gatherings of Black Lives Matter protesters across the country after the death of George Floyd.
"We call you peaceful protesters. You know why?" he told his supporters. "Because they have rules in these Democrat-run states that if you campaign you can't have more than five people. They did that for me."
Thousands more congregated at a rally in Latrobe, Pennsylvania last week, held inside the L.J. Associates hangar at the Arnold Palmer Regional Airport. Pennsylvania Governor Tom Wolf placed strict coronavirus mitigation orders throughout the state, limiting outdoor gatherings to 250 people and indoor gatherings to 25 people. Trump's rally was certainly far off from those restrictions.
Although organizers reportedly passed out masks and hand sanitizer to attendees, people generally did not social distance, nor did the majority wear masks to the event.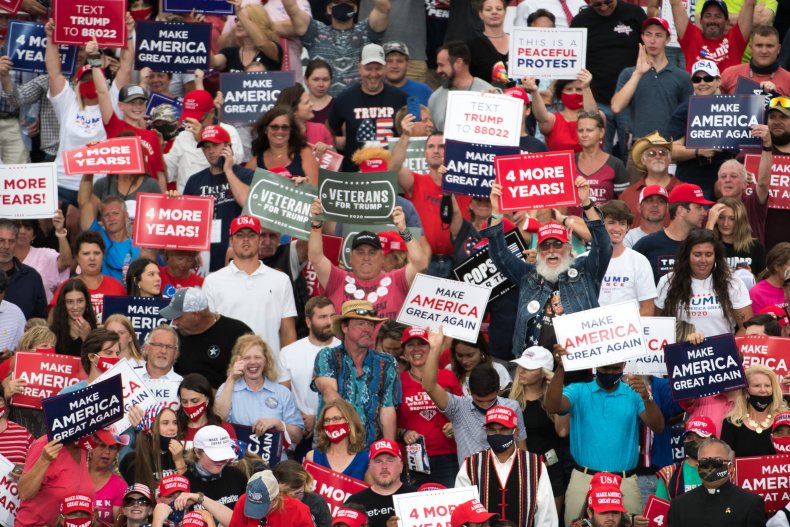 Trump did take the opportunity to say he is "all for" wearing masks—a sentiment he did not share in the few months after the pandemic gravely hit the U.S.—but appeared to mock Democratic presidential nominee Joe Biden for consistently wearing one.
"Did you ever see a man who likes a mask as much as him?" Trump asked the packed crowd. "It gives him a feeling of security."
Trump's recent rallies in Arizona, Florida, Wisconsin and New Hampshire followed a similar pattern of absent masks and lack of social distancing, which can ultimately cause these events—as with any large gatherings—to be "superspreaders" of the virus.
While the president still hopes to continue his rallying spree until the election, his plans to host several events in Nevada appeared to have been derailed.
Trump originally had rallies planned in both Las Vegas and Reno, and an appearance scheduled for Saturday within a hangar at the Reno-Tahoe International Airport had an expected attendance of over 5,000 people. But the Reno-Tahoe Airport Authority notified the hangar's leading company that the event was clearly in violation of the state's coronavirus restrictions, which limits outdoor gatherings to 50 people.
In a letter to Hangar 9, LLC on Tuesday, the airport authority's senior vice president and chief commercial officer, Tina Iftiger, said that the rally violates the state's coronavirus-related orders. She wrote: "The lease requires you to comply with all applicable state laws and directives. Such a rally is a violation of this directive."
Iftiger added that the airport authority is "unable to ensure the safety and security of its operations with a rally of such scope," and advised the company to "not proceed with the proposed gathering." The hangar has since withdrawn its offer to host the campaign event, and both Trump rallies scheduled in Nevada have been canceled.
Tim Murtaugh, the communications director for the Trump campaign, said in a statement to Newsweek that the president "will be traveling to Nevada on the dates planned" and additional details will be available soon.
"Democrats are trying to keep President Trump from speaking to voters because they know the enthusiasm behind his re-election campaign cannot be matched by Joe Biden," said Murtaugh about the rally cancellation.
Several Trump supporters had a lot to say about the canceled events, including the former Republican attorney general of Nevada, Adam Laxalt, who wrote in a tweet that the rally cancellations are "unprecedented" within the 60 days before a major election.
Daren Griffin, the president/CEO of the Reno-Tahoe Airport Authority, released a statement on Wednesday discussing the reasoning behind the decision.
"This has nothing to do with politics. The letter we sent is about directives and safety and not political campaigns," he said. "We would hold our tenants to the same standard whether it was a Democratic or Republican rally or any other type of gathering."