Majority Of U.S. Military Officers Have An Unfavorable View Of Trump, Poll Says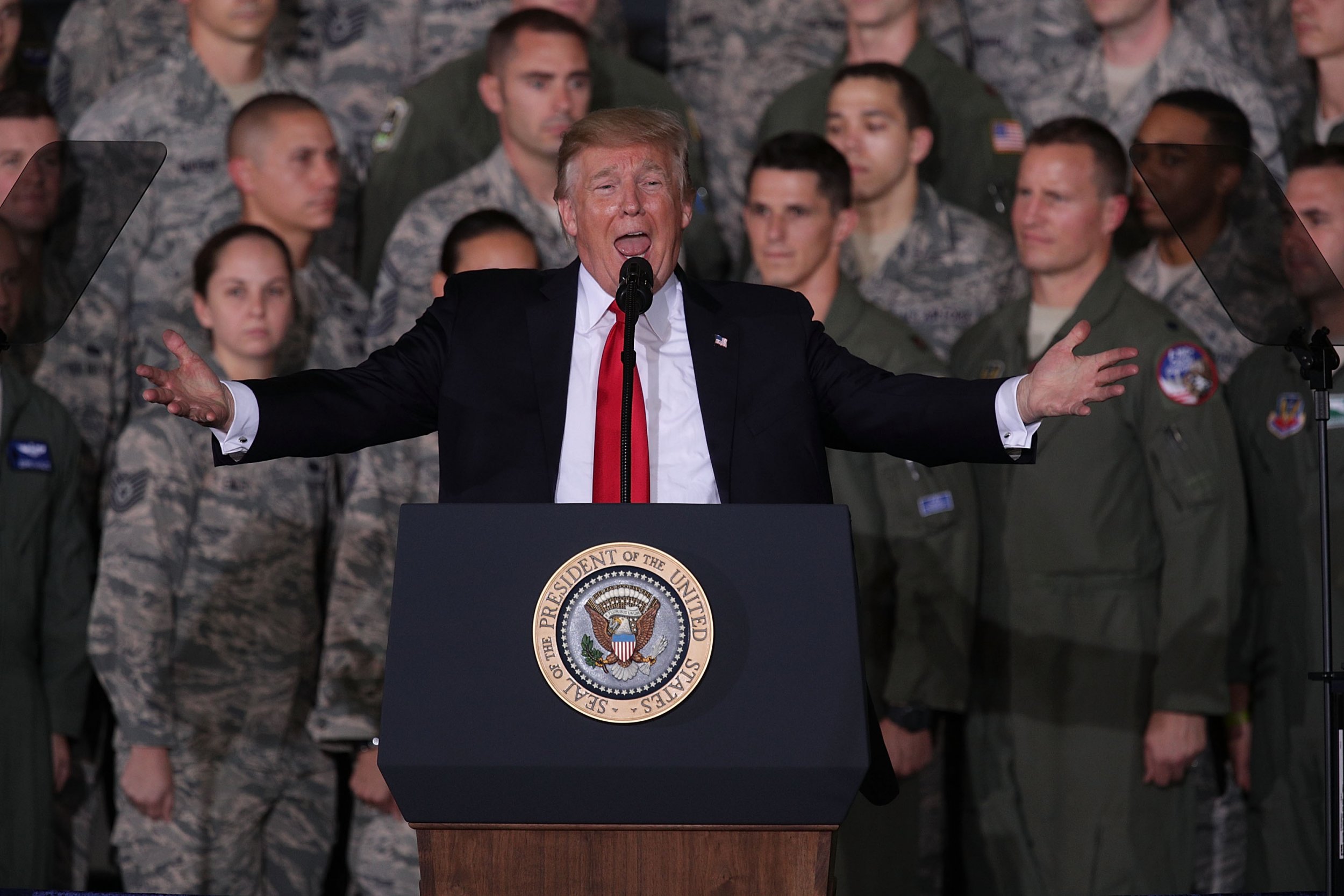 President Trump's approval rating has been tanking with the U.S. military.
A majority of American military officers have an unfavorable view of their commander-in-chief, according to a poll released days after Trump came under fire for his disputed call to the grieving widow of a fallen soldier.
The Military Times survey of 1,131 active-duty troops found 53 percent of military officers oppose Trump, while only 30 percent hold a positive view about the president.
Enlisted troops were more likely to pledge allegiance to Trump. Forty-seven percent held a favorable view of the president, and 38 percent viewed him unfavorably.
Trump's favorability among U.S. troops also varied significantly from branch to branch. A strong majority of Marines (59 percent) viewed him favorably, compared to just 38 percent of the Air Force. Meanwhile, almost half of the U.S. Navy (49 percent) view Trump unfavorably.
Overall, though, the military still likes Trump far more than the general public. Forty-four percent of servicemembers approved of Trump's performance, while his general approval in most mainstream polls has consistently hovered below 40 percent.
The president's strong support among Marines could be due to the fact that James Mattis, his secretary of defense, is a retired Marine general. Phil Carter, director of the Military, Veterans and Society Program at the Center for a New American Security, told Military Times that a "Mattis effect" gave Trump a bump with the corps.
Mattis has a 84 percent favorability rating among U.S. troops. Meanwhile, White House Chief of Staff John Kelly, also a retired Marine general, holds a 59 percent favorable rating.
There are also divided views on Trump among U.S. troops based on race and gender.
The poll found male troops were much more likely to support Trump than female troops (47 percent favorable for men, 32 percent for women). Meanwhile, 51 percent of non-white troops view the president unfavorably compared to just 37 percent of white troops.
Trump has presented himself as a friend to American fighters, and his federal budget blueprint called for a massive increase in military spending. But he has often been accused of disrespecting fighters, beginning with his notorious remark in 2015 that Senator John McCain, a former Vietnam prison of war, was only a war hero "because he was captured." Trump also drew ire when he attacked the Gold Star parents of Humayun Khan, a Muslim American soldier killed in Iraq, during the U.S. presidential campaign.
In the past week or so, Trump has been embroiled in a scandal over accusations of disrespect from Myeshia Johnson, the widow of Sgt. La David Johnson, one of four U.S. troops killed in an ambush in Niger on October 4.
Johnson said Trump brought her to tears during a rude conciliation call, in which he said her fallen husband "knew what he signed up for." Trump denied disrespecting the slain soldier.
He had already started controversy by waiting nearly two weeks before commenting at all about the Niger attack.
The Military Times poll was conducted from September 7 and 25, before the Niger ambush and subsequent uproar, but it did not come out until days after Trump's conflict with Johnson broke out.