Majority of Voters Want Higher Taxes on Millionaires to Fund More Stimulus Checks: Poll
A majority of voters in U.S. states with key Senate races in 2022 believe that millionaires should be subject to higher taxes to fund further stimulus checks for most Americans.
Direct payments, or stimulus checks, have been widely popular with American voters. The first round of checks was doled out last March, when Congress came together in a bipartisan way to pass the $2.2 trillion CARES Act as the coronavirus pandemic first surged nationwide. Those initial payments were $1,200 to most Americans, which were later followed by $600 in December and now an additional $1,400 through President Joe Biden's $1.9 trillion American Rescue Plan—which no Republicans in Congress supported.
Unsurprisingly, polling has consistently shown that significant majorities of Americans like receiving money from the government. A new survey by ALG Research shows similar findings, while also revealing that a majority of Americans believe more stimulus checks should be funded through higher taxes on the wealthy. The survey poll voters were in Arizona, California, Georgia, Nevada, New Hampshire, Pennsylvania and West Virginia.
The poll showed that just 19 percent of voters oppose raising taxes on millionaires in order to send more direct payments to the vast majority of Americans. Meanwhile, 71 percent said they'd support raising taxes on the wealthy to fund additional stimulus checks—a 52-point margin. The idea is backed by majorities of Democrats, Republicans and independents.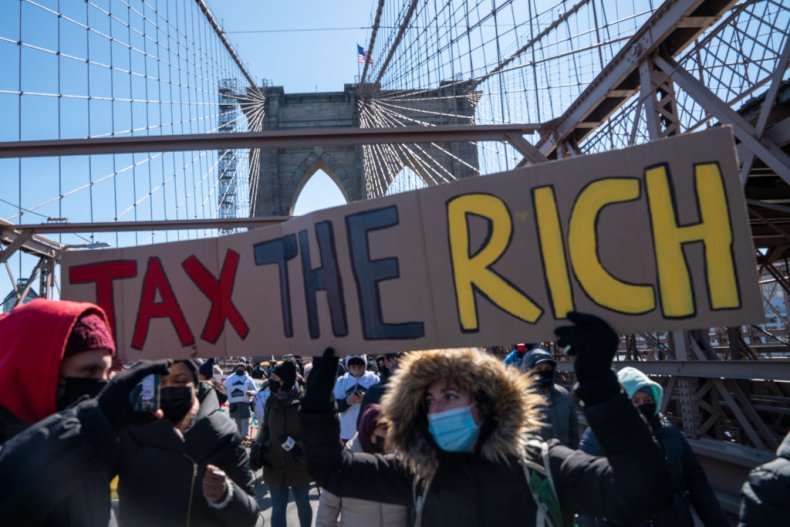 A smaller majority of voters said that former President Donald Trump's 2017 tax cuts, which largely benefited the wealthiest Americans, should be repealed to fund further coronavirus relief measures. That idea was supported by 56 percent of voters, while 27 percent opposed the proposal.
"Americans are tired of trickle-down economics and are ready for a government that invests in and works for the people," Dana Bye, campaign director of Tax March, which advocates higher taxes on the wealthy, said in a statement to Newsweek about the new polling results. "The numbers don't lie: Not only is putting money in people's pockets popular, so too is raising taxes on millionaires to make these kinds of investments."
Progressive lawmakers have pushed for recurring monthly payments to Americans since last spring, when stringent lockdowns shuttered much of the economy. Senator Bernie Sanders, a Vermont independent, and other progressive Democrats in Congress have called for $2,000 monthly payments until the end of the pandemic. The universal basic income proposal was widely popularized before the pandemic by unsuccessful Democratic presidential hopeful Andrew Yang, who is now campaigning on a scaled-back version of the idea as he runs for New York City mayor.
Polls have generally shown clear bipartisan support for raising taxes on the wealthy, although GOP lawmakers generally oppose the idea, calling it "wealth redistribution" or "socialism."
A poll conducted by Reuters and Ipsos in January 2020 showed that 64 percent of Americans strongly or somewhat agreed that "the very rich should contribute an extra share of their total wealth each year to support public programs." That included 77 percent of Democrats and 56 percent of Republicans.