Majority of Voters In Wisconsin, Where Jacob Blake Was Shot, Think Trump's Response Has Been Harmful
The majority of voters in Wisconsin, Jacob Blake's home state, disapprove of President Donald Trump's response to the police shooting of Blake.
A new poll from CNBC/Change Research found that 54 percent of respondents from Wisconsin called Trump's response harmful — two percent higher than voters across the six swing states surveyed. The other five states included Arizona, Florida, Michigan, North Carolina and Pennsylvania.
Only 32 percent of Wisconsin voters said the president's response has been helpful.
On September 1, Trump visited Kenosha, where Blake was shot, against the wishes of local officials who said the trip politicized the city at a time of unrest. The president took a strong stance behind local law enforcement, pledging $1 million to the police department and another $4 million to small businesses affected by the civil unrest.
Trump did not meet with Blake's family, although Democratic presidential nominee Joe Biden did during his visit to Kenosha just two days later.
More than half of respondents from all six states said they support both protesters and law enforcement, as racial justice protests have erupted across the nation for over three months. Fifty-three percent of swing-state voters have a favorable view of protests for criminal justice reform, and 72 percent said they have a positive opinion on their local police department.
Despite support for cops, the majority of respondents said they agree that "we should invest more in education, mental health and social services and spend less on policing" — a notion many Black Lives Matter activists have shortened to "defund the police."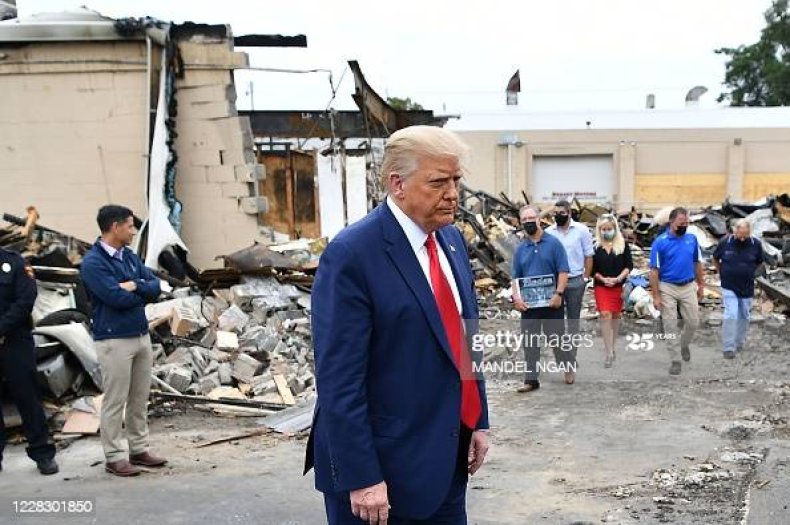 The majority of these voters also said they disapproved of the job Trump is doing on keeping communities safe. Fifty-two percent of respondents said the phrase "will keep us safe" does not represent the president.
Most respondents said Biden and Democrats would be better at reducing tensions between protesters and counter protesters, handling violence and discrimination, and bringing the country together in times of national crisis.
Voters were split down the middle when it came to choosing a presidential candidate who would effectively help Americans recover from a recession and return back to work amid the coronavirus pandemic.
The poll found that Biden holds a narrow lead over Trump in all six states, with the Democrat's edge slightly greater in Wisconsin, where he leads 50-44, and in Pennsylvania, where he leads 50-46. It surveyed more than 4,000 likely voters from September 4 to 6, and has a margin error of plus or minus 1.4 percentage points.
The same survey also found that most voters do not see either Biden or Trump to be mentally fit for presidency.
In the six battleground states, 51 percent said Trump is mentally unfit to be president and 52 percent said the same about Biden. However, these likely voters think both candidates have the physical fitness required to be president, with 52 percent agreeing that 74-year-old Trump is physically fit enough and 54 percent agreeing that 77-year-old Biden is.